Cambridge InsideOut - February 6, 2018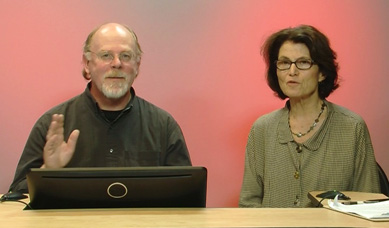 Possible Topics:
1) Feb 5 City Council meeting (Jerry's Pond; Central Square; Right of First Refusal)
2) Bill H.3017 and Right of First Refusal (references)
3) Jan 29 City Council meeting
5) Carl Barron Plaza - A Charrette
6) Transportation planning -Mass Pike realignment; Porter Square simplification; Inman Square alternate proposal; proposal to jack up resident parking fee?
7) Looking Back at 2017 and the 2016-2017 City Council term
---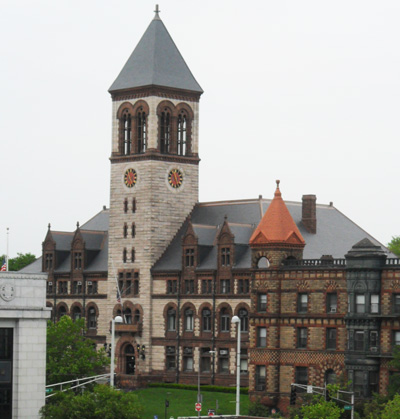 Here's my first pass (and Gronkowski didn't pull this one down either) at the interesting agenda items with the usual brilliant/annoying observations.
Order #1. That the City Manager is requested to inquire whether the Community Development Department will apply for the Targeted Brownfields Assessment Grant regarding Jerry's Pond. Councillor Siddiqui, Vice Mayor Devereux, Councillor Zondervan, Councillor Kelley
Many people may have forgotten this by now but there were once plans to enhance that whole area - not only by making Jerry's Pond an available resource but also doing, dare I say, some development in the vicinity of the MBTA headhouse east of the parkway and within the fenced-in area associated with the W.R. Grace site on the north side of the path. First it was the threat of naphthalene in the soil, and then asbestos. I will never believe that permanently fencing in a contaminated site near a T station is preferable to cleaning it up and turning it into a resource rather than a liability.
Order #3. That the City Manager is requested to work with the Community Development Department and any other relevant City Department to gain a sense of who is purchasing buildings in Cambridge. Councillor Simmons
I think this will be very interesting information, and not only because I'd like to see just how much property Gerald Chan now owns in Cambridge. At least he lives nearby. The greater problem is that in an uncertain world there's a lot more financial security in Cambridge real estate than in either pork bellies or Chinese financial markets. This reality is not always compatible with the quaint old notion of buying property either because you want a place to live or you need a place to operate your business. Cambridge property has in many ways become primarily a place to store wealth. Barring some new form of gold rush elsewhere I don't see this changing any time soon.
Order #6. That the City Manager explore the possibility of an "ALL WALK" pedestrian signal at the intersection of Massachusetts Avenue, Prospect Street, and River Street. Councillor Mallon, Councillor Siddiqui
As appealing as this may seem, the traffic volumes on these streets may dictate otherwise. The greatest problem is the conflict between pedestrians crossing Mass. Ave. and right-turning vehicles from River Street onto Mass. Ave. There used to be a "slip lane" there, but that was even more hazardous for pedestrians. The real problem, in my opinion, is that many drivers and pedestrians don't have a clue about how to balance assertiveness and courtesy. I'm reminded of a small book from about 35 years ago called "The Boston Driver's Handbook: Wild in the Streets" that really said it all, especially the Cambridge tradition of acting aloof when crossing in Harvard Square.
I often think about writing a story on "How to Be a Pedestrian in Cambridge" complete with a guide to hand gestures and best ways to stop vehicles with just a look. These lessons will, of course, be lost on habitual cell phone users.
Order #7. City Council support of Representative Provost and the Cambridge Legislative Delegation's efforts to pass a Right of First Refusal Bill, with an amendment for cities to provide final implementation modifications as needed. Councillor Carlone, Vice Mayor Devereux, Councillor Zondervan, Councillor Siddiqui
Please explain how this will apply to a multi-family homeowner who wishes to do a formal sale to family members or close friends for a price well below what is dictated by the market. - Robert Winters
---
Bill H.3017
Chapter 184 of the General Laws is hereby amended by the addition of a new section 21A, as follows:
1. In any city or town which votes to adopt the provisions of this section, tenants of residential buildings with three (3) or more units, or their designees, as set forth herein, shall have the right of first refusal to purchase such buildings at fair market value, for the purpose of maintaining affordable housing and preventing tenant displacement.
2. At the time of execution of an agreement for the purchase and sale of a residential building with three (3) or more units, except for an owner-occupied building with three (3) units, the owner/seller of the building must give written notice of the agreed-upon sale to all tenants aged 18 or over, and to the municipality, in such form as shall be specified by ordinance or bylaw. The price specified in a good faith, arm's length purchase and sale agreement shall be prima facie evidence of the fair market value of the property. 
3. The tenants, or any such non-profit housing entity as the tenants may form or formally designate, shall have forty-five (45) days in which to make a deposit to the owner, equal to five per cent (5%) of the agreed-on sales price, as set forth in the purchase and sale agreement, which shall be held in escrow by the seller's agent or attorney. The tenants, or their designee, shall also execute a purchase and sale agreement with the seller, which shall have priority over the original purchase and sale agreement, contingent on financing.
4. The tenants or their designee shall have an additional one hundred and twenty (120) days from execution of the purchase and sale agreement to secure financing for and close the purchase of the building.
5. Tenants may assign or transfer their right of first refusal to an owners' cooperative, a community development corporation, a land trust, or such other non-profit housing organization as will hold the property in perpetuity as limited-equity affordable housing. Such assignment transfer shall be in writing, on a form specified by the municipality.
6. Any municipality which votes to adopt the provisions of this section and which is not otherwise authorized to establish a housing trust fund, which shall be a revolving fund, is hereby so authorized. Funds from including, but not limited to, linkage fees, gifts or bequests, and duly authorized community preservation act funds, may be deposited in the housing trust fund. Any municipality which has a housing trust fund may authorize a grant or loan from the fund for purposes of purchases of real property under this section.
7. Any owner of any a residential building with three (3) or more units, including an owner-occupied building with three (3) units, may offer in writing to sell such building to the tenants or their designee at any time. In such a case, fair market value shall be negotiated between buyer and seller based on one or more professional appraisals. Once a price is agreed to, the parties shall proceed with the transaction as set forth in subsections 3 through 5 of this section.
---
https://www.huffingtonpost.com/entry/in-dc-an-old-law-is-complicating-real-estate-deals_us_592d2b0ce4b08861ed0ccbb5
A Law Used To Stifle Landlords Is Reducing Affordable Housing In Washington, DC
While TOPA has served to protect tenants' rights, it has had unintended consequences.
05/30/2017 04:53 am ET Updated May 30, 2017
In Washington, D.C., an old law to protect renters is getting new attention. The Tenant Opportunity to Purchase Act, commonly known as TOPA, has become so controversial critics are asking that the law be re-examined. This is because some tenants are using TOPA to extract money from landlords, should a landlord decide to sell a building. At present, TOPA is holding up or blocking real estate transactions, causing grief for developers and homeowners and victimizing low-income residents stuck living in buildings owners are unable to sell but forced to maintain at a financial loss.
Ostensibly, TOPA was created to protect tenants' rights, which is important in Washington where about 30 percent of the District's 672,000 residents rent instead of own a home. On its most basic level, the 1980 law is simple. "Under TOPA," one publication wrote by way of explanation, "prior to the sale of a housing accommodation, the owner must send, by first class mail, a written offer of sale to each tenant and the Mayor of the District of Columbia." The letter must state the property's asking price and the terms of the sale. "In the case of a single-family home, a condominium, or cooperative unit… the tenant has 30 days to provide a written statement of interest to purchase the property." If no offer is made, the sale goes through. If an offer is made, "the tenant has a minimum of 60 days… to negotiate a contract of sale with the property owner."
Originally, the law was envisioned, according to one source, as a way "to protect tenants from potentially advantageous landlords and buyers." That is to say, the law was trying to stop a developer from buying a property rented by low-income tenants and converting it to high-end housing. While TOPA has served to slow down this type of conversion, it has had unintended consequences.
One problem arises from the fact that a tenant can state he is willing to buy a property, but he is not required to demonstrate the financial means necessary to buy it. Even more troublesome, a tenant can assign — in other words sell — his TOPA rights to a third party such as a lawyer or a developer. This creates a situation where an outside party can complicate the sale of a property either by holding up the sale or inflating the value of the TOPA rights or both. It also violates the spirit of the law if the point of the original legislation was to protect the ability of a tenant to keep his home, not produce a bidding opportunity where TOPA rights can be auctioned off to the highest bidder, which is what has started to happen in Washington.
The bottom line is a tenant has the ability to cash in on the sale of a property without putting up any money of his own...
Consider the drama surrounding the recent sale of a home on Capitol Hill. The homeowner put her house on the market and received an offer. But when she gave notice to her tenant who leased the basement apartment for $800 a month, the tenant executed her TOPA rights, holding up the sale of the house. When the homeowner offered the tenant $10,000 to buy the TOPA rights, the tenant rejected the offer because she had multiple offers from third parties. "[My agent and I] are accepting offers which consider the ratio of time I am able to stay in the home and the buyout amount," the tenant wrote to the homeowner. The conflict ended up in court.
Because of such examples — and there are many — critics of TOPA call it "tenant blackmail"; defenders call it "tenant capitalism." The bottom line is a tenant has the ability to cash in on the sale of a property without putting up any money of his own, since he can hold a potential sale hostage until he signs over his TOPA rights. This is in stark contrast to real estate laws in, say, New York City, where a tenant can buy his apartment when his building converts to a cooperative but he is required to actually purchase the unit. He has a financial stake in the deal in a way tenants selling TOPA rights do not.
Sometimes the tenants band together and form a tenants' association, which will represent all tenants concerning TOPA rights. But often a tenants' association serves to drag out the purchase process with little or no intention of facilitating a sale. Such was the case with Museum Square. "So far," The Guardian reported in an article about the sale, "the… tenants' association of Museum Square is half way through the TOPA process. Seizing on their right to buy first… tenants have managed to stay put by claiming the number ($250 million) issued by their landlord as a sales price did not constitute a bona fide offer — meaning it did not represent the buildings' current market value (the number instead reflected the estimated value of the luxury building that would have been built in its stead)."
In another case, tenants living in the low-income apartment complex surrounding the Congress Heights Metro station have exerted their TOPA rights, blocking the complex's sale. The owner of the buildings, Sanford Capital, has been heavily criticized in the media for failing to maintain the property when in fact the company merely wants to divest itself of the property by selling it. It's being prevented from doing so by the tenants, who have filed a TOPA lawsuit, guaranteeing the current situation, unacceptable to both the owner and the tenants, will continue on.
According to media reports, summer interns renting a room and even squatters can claim and sell TOPA rights. Critics of TOPA believe D.C. Mayor Muriel Bowser should work with the City Council to reform TOPA to ensure that residents can exert their rights but not hold a sale hostage to a process that is being used to delay real estate transactions through extortion of landlords. Unless the law is changed, things will only get worse, slowing down the construction of new housing. Oddly enough, this won't create more affordable housing in D.C. — as TOPA was designed to ensure — but make what housing is available even more costly.
---
Mayor McGovern has appointed the City Council committees and their Chairs pending final adoption of the City Council Rules. In addition, here are just a few of the noteworthy agenda items:
Charter Right #1. That the City Manager is requested to report back to the City Council regarding efforts to expand the number of electric vehicle charging stations, the feasibility of appropriately placing electric vehicle chargers on residential streets where there is need, the status of possible City fleet replacement to electric vehicles, expanded outreach and education on available rebates and incentive programs, and the feasibility of requiring developers to include a greater number of electric vehicle charging stations in new or substantially renovated multi-unit buildings. [Charter Right exercised by Councillor Simmons on Jan 22, 2018.]
Approved as Amended, Add'l Order Approved to also refer to Health & Environment Committee
This Order from last week exposed a potentially pretty significant rift. It's one thing to require electric vehicle charging capacity in new residential and commercial construction, but providing charging stations on public streets basically means that only those who can afford a $100,000+ Chevy Volt or comparable vehicle will be able to use those parking spaces. [Correction: It's the Tesla Model S that went for ~$100K. The Chevy Volt apparently goes for ~$30K.] It's understandable that people without driveways might want a mechanism for charging their cars (since running power cords across the sidewalk or down the street is not an option), but how will it go over with the neighbors if only some people are privileged to use these parking spaces?
Unfinished Business #3. A communication was received from Donna P. Lopez, City Clerk, transmitting a report from Vice Mayor Devereux, Chair of the Ad-Hoc Rules Committee, for a public hearing held on Tuesday, Jan 16, 2018 to discuss and suggest changes to the City Council Rules and transmitting recommended changes to the City Council Rules.
Approved - and copies of the amended Rules were made available at the meeting
I honestly don't know what Rules Changes they finally settled on at last week's meeting. The meeting materials only show the suggestions from the Ad-Hoc Committee and it's simply not worth reviewing the video to find out what the Council decided on before referring the revised version to Unfinished Business. It's primarily just nickel-and-dime stuff anyway.
Communications #16-25 and #27 transmitting written opposition to the Peter Kroon, et al. Harvard Square Overlay District Zoning Petition.
Referred to the Petition
In addition to these communications, most of the public comment at last week's Ordinance Committee meeting was against the petition. I believe there may now be or will soon be expressed written opposition from more than 20% of the affected land ownership which means that a three-quarter super-majority vote would be needed to pass the Kroon Petition, i.e. 7 votes instead of 6 out of 9. I don't think it had the votes anyway, but it apparently doesn't matter because the Ordinance Committee failed to move it out of committee so it can't be passed to a 2nd Reading on Monday and it therefore cannot be ordained prior to the expiration date. It seems likely that a revised version will be filed after the Feb 19 expiration.
One particularly offensive part of the Ordinance Committee discussion centered on term limits on membership on the Harvard Square Advisory Committee and the desire of the petitioners and some councillors to drive one particular person out of the Chair and maybe even off the advisory committee entirely. There is a notification in this week's agenda for the reappointment of two 20+ year members to the Library Board of Trustees. Will the City Council now argue that they should be booted from the Board in the quest for "new blood"? City boards & commissions benefit greatly from having a mix of newer members and long-time members who carry a lot of institutional memory and skills. Having a good balance is what's really important.
Order #2. That the City Manager is requested to direct the City Solicitor and any other appropriate City departments to report back to the City Council with an update on any work that is currently underway regarding regulating adult use marijuana and to suggest next steps to the Council. Vice Mayor Devereux, Councillor Mallon, Councillor Siddiqui, Mayor McGovern
Approved
This is a timely order. The Trojan horse of medical marijuana facilities has already entered the city and it has the munchies.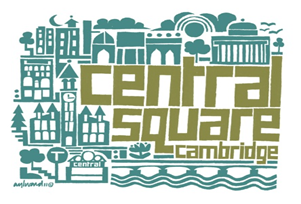 Order #4. That the City Manager is requested to explore funding options for the possibility of creating a Business Improvement District (BID) for Central Square. Councillor Mallon, Councillor Simmons, Mayor McGovern
Approved
It is quite apparent that groups like the Harvard Square Business Association and the Central Square Business Association are already taking on some of the rules associated with a Business Improvement District. This may be the right time to make this official in Central Square. The benefits are many and the down sides are few.
PS - The Central Square Business Association and its most excellent Executive Director Michael Monastime hosted an especially good charrette on Saturday on the future of Carl Barron Plaza in the heart of Central Square. This was just the first of what will be many opportunities for public input on the upcoming River Street reconstruction project (from the river to Carl Barron Plaza) that will commence at some point in the next year or so.
Order #5. That the City Manager is requested to confer with the Community Development Department with the view in mind of creating a list of mitigated private spaces that are available to the public, what the exact eligibility of using these spaces is, and making the list available to the public. Councillor Toomey
Approved
This is a welcome request. Most people have no idea what spaces are available for use and what rules govern the use of these open spaces and meeting spaces. It will be great if this information can be made available along with information on all City-owned resources that are available for public use. Ideally there should also be a list of all spaces in churches and other buildings that are available for use at modest cost for meetings and events.
Order #6. That the City Manager is requested to confer with the Commissioner of Public Works and the City Engineer on the potential of utilizing trenchless technology, micro tunneling and/or pipe jacking to lessen the time and impact on the residents of Gore Street. Councillor Toomey, Councillor Kelley, Councillor Mallon
Approved
Order #8. That the City Manager maximize the community benefits from and mitigating the impacts of the Cambridge Crossing sewer construction. Councillor Zondervan, Councillor Siddiqui, Councillor Toomey
Approved
Suffice to say that if during the construction of that dedicated sewer line the century-old water mains and gas mains are replaced (which will have to occur at some point anyway), that is, in itself, significant mitigation. If some of the electrical infrastructure can also be renewed and moved from poles to underground that would be even better.
Order #7. Endorsing Requests for Action or Further Study for the I-90 Allston Interchange Project in Boston. Mayor McGovern, Vice Mayor Devereux, Councillor Zondervan, Councillor Carlone
Approved
This is a complicated project with the potential for a lot of benefit and a fair amount of disruption during construction. I won't offer any opinions just now, but there are plenty to go around. It's worth the read.
Communications & Reports from City Officers #2. A communication was received from Mayor Marc C. McGovern, transmitting the City Council Committee Assignments for the Council Term 2018-2019 pending adoption of the Rules as amended.
Placed on File
There's nothing particularly stunning about the appointments - mostly natural matches of function and interest. There are maybe three out of the 11 standing committees that could become cauldrons of controversy, but it's probably best to wait and see. I'll let you guess which three. - Robert Winters
---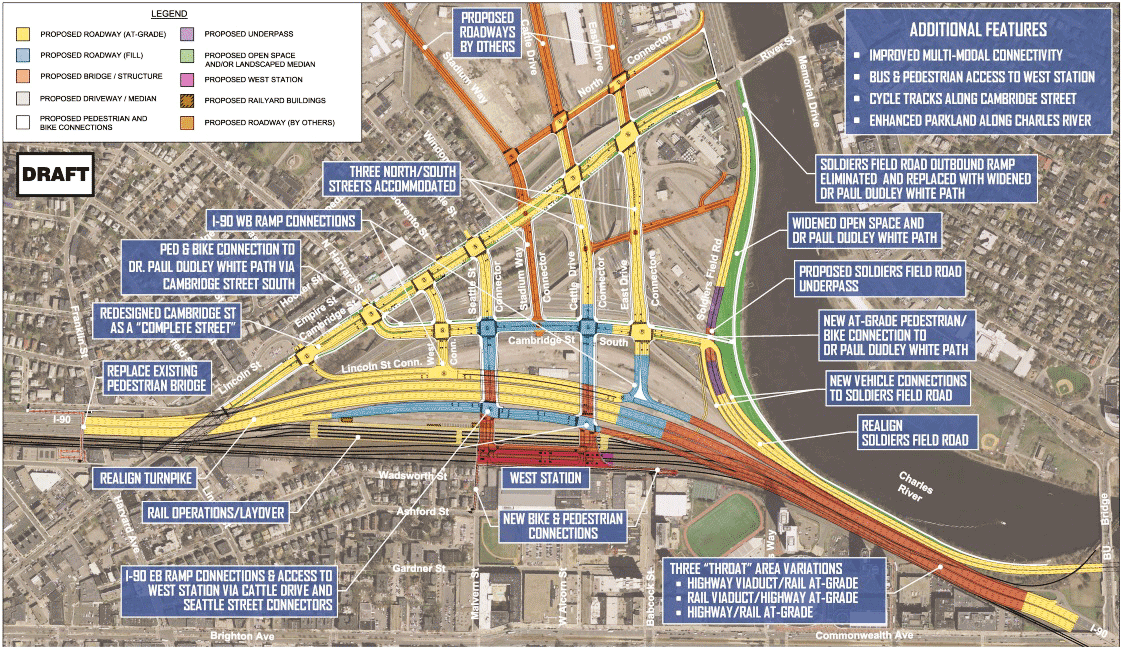 ---
Looking Back at 2017 and the 2016-2017 City Council term
Two years ago I put together an outline of some of the issues and tasks that lay before the City Council and the City administration that perhaps needed attention at that time. I called this outline "Unfinished Business" (Jan 5, 2016). Let's do a status check on how we fared over the last two years.
I – Housing
Barrett Petition – Accessory apartments, etc.
Outcome: This was ordained on Jan 11, 2016 and most or all outcomes seem to be positive, including better and more creative use of basement spaces in commercial buildings.
Affordable Housing Overlay – Citywide? Or not?
Outcome: To the best of my knowledge no report on this was ever issued and no definitive plan ever emerged. Proposals have been floated, especially during political campaigns, but it seems doubtful that any citywide proposal to encourage "affordable housing" in all most or all residential districts will garner political support. Don't be surprised if the concept is at least explored in the current (2018-19) term, but it seems more likely that any outcome will affect only some residential districts.
Future housing on Central Square parking lots?
Outcome: No word yet on any such plans. In the meantime, there does seem to be at least some acknowledgement that you can't just wish away all parking needs, but look for enhancements to structured parking lots before any new housing appears on existing surface lots.
Adjustments to Inclusionary Zoning required percentages
Outcome: The City Council on Apr 3, 2017 unanimously approved an increase from 15% (effectively about 11.6% after density bonus) to an absolute 20% requirement (with no additional density bonus) along with other amendments and provisions for periodic review.
Vail Court?
Outcome: The City took the property by eminent domain and the matter is currently tied up in litigation.
II – Citywide Master Plan/Envision Cambridge
Will it be the ultimate way to kick every can down the road "until the master plan is completed"?
Outcome: The Envision Cambridge process is proceeding with expert analysis, but there have been frequent suggestions that some matters be delayed "until the Envision Cambridge process is completed". It has also become common to refer some pressing matters to the Envision Cambridge process - a practice fraught with the risk (or possibly the intention) of unrealistic expectations.
Will it be cooperative or combative with people taking sides from the start and competing to pack the public meetings and serve on committees?
Outcome: This has not appeared to generally be the case, though there have been some indications of resistance to some of the Alewife-specific proposals. We'll have to wait and see is there will be any other push-back as additional proposals are solidified this year.
Will it be a competition between those who support transit-oriented development and density vs. those who support limiting growth, limiting heights, limiting density in the name of "livability"?
Outcome: This division of viewpoint is evident in ways that reach well beyond Envision Cambridge, especially in the dichotomy that played out during the recent municipal election.
Representativeness of participants – will all points of view be represented?
Outcome: Irrespective of any other aspects of the process the Envision Cambridge staff and consultants have done a better job of outreach and seeking representativeness than anything in recent memory. That said, we should all expect criticism that the opposite was the case - especially if the recommendations are not to the liking of various interest groups.
Alewife early action item – will the current Concord-Alewife Plan be significantly altered to respond to those concerned about pace of housing growth in the area (and NIMBYism)?
Outcome: At this point I would have to say both YES and NO to this. The current proposals do plan for significant new housing in the area, but there's also a lot of emphasis on "light industry" uses. The reality is that some significant housing growth has occurred and is still in development - regardless of the Envision Cambridge process. Much attention remains on transportation enhancements such as a bridge (possibly only for pedestrians/cyclists but maybe also for shuttle buses) over the RR tracks connecting the Triangle and the Quadrangle, but there are no solid plans or financial mechanisms in place for building such a bridge. This is almost certain to be part of City Council rhetoric for the next year or more, but I can't imagine how the City Council might turn words into action.
Transportation in the Citywide Plan (likely to be renamed "Envision Cambridge": Will the discussion continue to be dominated by "bicycle as panacea" or will there be a more comprehensive view? Will any new connections be proposed over RR tracks, rivers, or one-way patterns? Will new modes like personal mobility devices be accommodated?
Outcome: The plan was, in fact, renamed "Envision Cambridge" and time will tell if there are any creative transportation proposals. The consultants have suggested bicycle-priority routes, but much of this seems to be going on outside of the Envision Cambridge process, e.g. among activists and highly politicized, e.g. the "bikelash" over the hastily-approved/implemented changes to Brattle St. and Cambridge St. Comprehensive transportation planning for all modes has become a war about "turf". Meanwhile, traffic remains dreadful on some major roadways, e.g. Fresh Pond/Alewife Brook Parkways.
Will the end product have any fundamental recommended changes or will it be essentially an endorsement, more or less, of the way we are now doing things?
Outcome: It's fair to say that prior studies and recommendations have been fairly integrated into the Envision Cambridge plans - or so it appears so far.
Will there be any movement on Central Square, the C2 Recommendations, or some alternative?
Outcome: Most progress in this has been independent of the Envision Cambridge process, e.g. the ordination of the Central Square Restoration Petition on Feb 27, 2017.
III – STEAM/STEM
Will there be any follow-up of discussions of the last year or so?
Will there be any actual jobs created or connections to jobs for Cambridge residents who actually need them?
Will we have simply created or grown another bureaucracy that drafts plans but delivers little benefit?
Outcome: Creating opportunities in Cambridge-based companies, especially in the Kendall Square area, for people who have grown up in Cambridge remains one of the most difficult challenges with relatively few solutions so far. If the 2018-2019 City Council, the City administration, Cambridge schools, and these companies can make some progress in this it will be a great achievement.
IV – Bans, Ordinances, and changes in City services
Curbside Organics Collection
Outcome: This goes citywide starting in April 2018.
Plastic Bag Ban - Checkout Bag Ordinance – when does it go into effect? Any glitches?
Polystyrene ban – when does it go into effect? Possible glitches, exemptions, recommended changes?
Outcome: Actually, these bans seem to be working out OK and other cities and towns have followed suit.
Anything else to be banned or restricted? Soda? Candy? Fatty foods? Meat?
Outcome: The City Council did ban the sale of all non-rescue animals in Cambridge pet shops. On the other hand, they changed the zoning to create a mechanism for beekeeping. Hopefully these are all rescue bees.
Regulation of outdoor lighting?
Outcome: In spite of a zoning petition and a long effort to craft a municipal ordinance, this matter become stalled as efforts to regulate lighting became so broad that it eclipsed the more reasonable regulation of ordinary nuisance lighting.
V – Mass & Main
When will actual construction commence? Will there be disruptions?
Outcome: It's happening right now.
Large stormwater storage tank to be built in parking lot behind Mass & Main site.
Outcome: This is also in the pipeline (as is a pipeline crossing Mass. Ave. under the T) for 2018.
Will there be lawsuits to try to block project? More petitions?
Outcome: There were, but primarily of the nuisance variety.
VI – Foundry Building
When will building actually become available for use?
Programming in building – what fraction for non-profits, etc. and what fraction for revenue generation to support the whole building? Will there be controversies over decisions made by Advisory Committee and the Cambridge Redevelopment Authority?
Outcome: There have been plenty of controversies, changes in plans, and added costs. Perhaps one day we'll all look at this as a great resource, but former City Manager Bob Healy's reaction to the gift of this building as part of the Alexandria zoning remain prophetic: "This is going to be a problem."
VII – Volpe Site – Zoning and Possible Uses
Likely that current petition will be re-filed
Outcome: Development rights were award by the federal government to MIT who consequently filed a rezoning petition in June 2017 that was ordained as amended on Oct 23, 2017.
How will competition between economics and possible housing/open space play out?
Outcome: I would say that this played out reasonably well - largely because MIT was the chosen developer of the site and their interests are much longer term (and they're not going anywhere). There were a lot of competing interests - all in the midst of a municipal election season - yet consensus was reached. There will be ~1400 units of new housing (20% "affordable"), a community center, a job connector program, transit improvements, money for community benefits, conveyance of rights along the Grand Junction RR right-of-way for a future multi-use path, and more. The memorandum of understanding also expresses MIT's commitment to constructing a significant amount of new graduate student housing.
Will Volpe Center just stay there in same building for another 20-50 years?
Outcome: Don't look for too many immediate changes, but this site will see dramatic changes within a few years.
VII – The "Sharing Economy"
Uber, Lyft, taxis – how will that dilemma be resolved? New regulation by City? By State?
Outcome: This seems to be stalled. The value of a taxi medallion has plummeted and Uber and Lyft vehicles are everywhere - often behaving badly.
AirBnB – will this be further regulated or will everybody run their overpriced condos as unofficial hotels?
Outcome: The City unanimously ordained a well-considered and thoughtfully amended zoning petition on Aug 7, 2017 to regulate short-term rentals.
IX – Miscellaneous other Cambridge-style initiatives that may happen or go nowhere
Publicly funded municipal elections
Outcome: This was an interesting idea that went nowhere - largely because it was presented more as an accusation than a reform. The topic will likely come up again over the next two years, but hopefully independent of any political campaigns.
Voting rights for non-citizens in local elections
Outcome: This was, I believe, forwarded to the state legislature with little chance of actually being implemented either locally or statewide.
Shifting of political power to individual councillors via political aides, discretionary money, and differing interpretations of the City Charter
Outcome: This is a trend that unfortunately continues. Campaign managers continue to be hired as personal aides. There are opportunities with three new councillors and changes in the City Council office to possibly realign staff along the lines of City Council committees (and their purpose) rather than personal assistance, but don't count on it.
Changes to Residential Exemption, e.g. only for low-income people with requirement that residents prove their income to be eligible (very unlikely – authority of state)
Outcome: Never heard another word on this.
$15 minimum wage (also unlikely except for City contracts and City workers – City lacks authority to set wages/prices except perhaps in declared emergency)
Outcome: All such authority resides with the state legislature.
Proposed special status for "recognized groups" at Ordinance Committee meetings – opens up a wider discussion of legitimacy and representativeness of neighborhood associations, political advocacy groups, etc.
Outcome: Thankfully this was never heard again.
Proposal to have 11 full days of early voting for November election at precincts all across the city with staffing and security. A far better Order would have asked for a report from the Election Commission on how to best plan for Early Voting in accordance with changes in state law (as opposed to dictating to staff how this should be done).
Outcome: This was implemented at 5 sites (not at 33 individual precincts) for state/federal general elections and seems to have been an great success with a high level of participation.
Effect of new development in Union Square, Somerville on Cambridge traffic, housing availability and affordability, access to Green Line Extension (if it happens any time soon).
Will the current housing speculation bubble burst?
X – Civic Unity – Race, class, and the never-ending conflicts between different groups, neighborhoods, etc.
Outcome: Attention seems to have shifted locally toward things like bike lanes, immigrant-related matters, and the NIMBY vs. YIMBY dichotomy. How this helps a kid growing up in public housing seeking opportunities and a future remains to be seen.
XI – Other Notable Things that emerged in the intervening two years
Road reconfigurations (for better or worse) for bicycle accommodation
Outcome: This remains unsettled and volatile.
Changes in License Commission policies and procedures
Outcome: Overall things are moving in a good direction, but the loss of resale value of a liquor license stings.
Invasion of local politics by national political organizations
Outcome: How's that Revolution workin' for ya?
Harvard Square controversies and changes
Changing of the Guard
Outcome: Louis DePasquale takes over as new City Manager, Acting Police Commission Brent Larrabee and new Police Commissioner Branville G. Bard, Jr., retirement of Fire Chief Gerald Reardon
CRLS Boys Basketball repeats as State Champions
Pedro Martinez plays in the Oldtime Baseball Game at St. Peter's Field
City Announces First Minibond Issuance, Invites Residents to Directly Invest in Cambridge
Outcome: It was very popular.
The 2017 municipal election
Outcome: 26 City Council candidates, 12 School Committee candidates
Voluntary exit of three incumbents (Maher, Mazen, Cheung)
Dramatic increase in voter turnout, especially among younger voters
Election of new councillors Alanna Mallon, Sumbul Siddiqui, and Quinton Zondervan
Some very notable passings
Renae Gray
Robert Moncreiff, former Cambridge city councillor
---
CIVIC CALENDAR
Tues, Feb 6
6:00pm Regular School Committee meeting (Henrietta Attles Meeting Room, CRLS, 459 Broadway)
6:30pm Planning Board meeting (2nd Floor Meeting Room, City Hall Annex, 344 Broadway)
General Business
1. Update from the Community Development Department
2. Adoption of Planning Board meeting transcripts
3. Town Gown Reports (Reports)
Town Gown reports are submitted annually by Cambridge's educational institutions. The reports include information about student, staff and faculty populations, parking and transportation, and current and future development plans. The Hult International School of Business will not present this year.
• Data Presentation
• Lesley University
• Harvard University
• Massachusetts Institute of Technology
Public Hearings
8:00pm PB#331 (continued from 1/2/2018)
1385 Cambridge Street – Special Permit application by Commonwealth Alternative Care, Inc. to convert existing space into a Registered Marijuana Dispensary pursuant to Sections 11.800 Registered Medical Marijuana Dispensary and 10.43 Special Permit. (Notice) (Materials)
Mon, Feb 12
5:30pm City Council meeting (Sullivan Chamber)
Wed, Feb 13
5:30pm Cambridge Election Commission meeting (1st Floor Meeting Room, 51 Inman St.)
I. MINUTES

II. REPORTS

1. Executive Director's Report

2. Assistant Director's Report

3. Commissioners' Reports

III. PUBLIC COMMENT

IV. ACTION AGENDA

Old Business

New Business
Sun, Feb 25
1:00pm Cambridge Democratic Party Caucuses - Wards 1, 2, 3, 4 (MIT Kresge Auditorium, Rehearsal Rooms A (W16-033) and B (W16-030), 48 Mass. Ave.)
Caucuses to elect delegates to the 2018 Massachusetts Democratic Convention for Cambridge Wards 1, 2, 3, 4 will be held on Feb 25, 2018, at 1:00pm at MIT Kresge Auditorium, Rehearsal Rooms A (W16-033) and B (W16-030), 48 Mass. Ave. (You can look up your ward at bitly.com/wherevotema or bitly.com/cambwards.) Anyone registered as a Democrat on Feb 25 is eligible to run in the caucus. Among other things, delegates will elect which candidates for statewide office will appear on the Democratic primary ballot. More info at http://www.cambridgedems.com/. Questions? Ask your ward chair.
Mon, Feb 26
5:30pm City Council meeting (Sullivan Chamber)
Mon, Mar 5
5:30pm City Council meeting (Sullivan Chamber)
Tues, Mar 6
6:00pm Regular School Committee meeting (Henrietta Attles Meeting Room, CRLS, 459 Broadway)
Mon, Mar 12
5:30pm City Council meeting (Sullivan Chamber)
Mon, Mar 19
5:30pm City Council meeting (Sullivan Chamber)
Tues, Mar 20
6:00pm Regular School Committee meeting (Henrietta Attles Meeting Room, CRLS, 459 Broadway)
Mon, Mar 26
5:30pm City Council meeting (Sullivan Chamber)