---
Tues, June 28
3:00pm The City Council's Ordinance Committee will conduct a public hearing to discuss the parameters for a potential zoning proposal that includes the Volpe Transportation Systems Center. (Sullivan Chamber)
7:00pm Planning Board meeting (2nd Floor Meeting Room, City Hall Annex, 344 Broadway)
General Business
1. Update from the Community Development Department
2. Adoption of Planning Board Transcripts
Public Hearing
7:00pm (continued) PB#309, 95 Elmwood Street, special permit to demolish the existing building, and construct a new 34 unit residential building with approximately 480 square feet of retail and 34 underground parking spaces pursuant to Section 19.20. The applicant is 95-99 Elmwood Street, LLC.
General Business
3. Pre-Application discussion of the proposed MXD Infill Development Concept Plan
General Business items may be taken out of the order in which they appear on the agenda above. Times for General Business items are approximate. Public comments are taken only during a Public Hearing. During the discussion and deliberation on General Business items, the Planning Board does not solicit public comment. The City of Cambridge will provide reasonable accommodations to people with disabilities upon request. Please make requests for alternative formats at least two weeks in advance by contacting the Planning Board staff listed below. For further information concerning this agenda, please contact Liza Paden, Planning Board staff, at 617-349-4647, lpaden@cambridgema.gov. Applications and Petitions are online at www.cambridgema.gov/cdd.
Full zoning petition texts available online at: www.cambridgema.gov/cdd/zoninganddevelopment/zoning/amendments.
7:00pm June meeting of A Better Cambridge (ABC) (Citywide Senior Center, 806 Mass. Ave.)
Wed, June 29
3:00pm The City Council's Ordinance Committee will conduct a public hearing to discuss an amendment to the Municipal Code in Chapter 8.28 entitled "Restrictions on Youth Access to Tobacco Products and on Smoking in Workplaces and Public Places by amending Section 8.28.050 entitled "Definitions for Prohibition of Smoking in Working" to expand the definition of "Workplace" to include open construction sites. (Sullivan Chamber)
5:00pm The City Council's Government Operations, Rules and Claims Committee will conduct a public hearing to receive an update from the City Manager's Search Focus Group and the development of the draft profile. This hearing to be televised. (Sullivan Chamber)
5:30pm Cambridge Election Commission meeting (1st Floor Meeting Room, 51 Inman St.)
I. MINUTES

II. REPORTS

1. Assistant Director's Report

2. Commissioners' Reports

III. PUBLIC COMMENT

IV. ACTION AGENDA

Old Business

1. Election Commission Policies

New Business

1. State Primary, September 8, 2016
6:00-8:00pm Envision Cambridge Advisory Committee meeting (City Hall Annex, 344 Broadway, 4th Floor Conference Room)
Thurs, June 30
3:30pm The City Council's Health and Environment Committee will conduct a public hearing to discuss the Georgetown Energy Prize. (Sullivan Chamber)
6:00-8:00pm Panel Discussion: Changes & Opportunities facing Cambridge - part of ongoing Envision Cambridge process (Cambridge Public Library, Main Branch, 449 Broadway)
Mon, July 11
5:30pm The City Council's Housing Committee will conduct a public hearing to continue the discussion regarding the recently completed Inclusionary Housing Study and the Affordable Housing Trust's recommendations to the City Council. (Sullivan Chamber)
Tues, July 19
3:00pm The City Council's Public Safety Committee and Housing Committee will conduct a joint hearing (Sullivan Chamber)
5:30pm The City Council's Transportation and Public Utilities Committee, the Neighborhood and Long Term Planning, Public Facilities, Arts and Celebrations Committee and the Public Safety Committee will conduct a joint public hearing to discuss safety issues as it relates to cyclist and pedestrians in Inman Square. (Sullivan Chamber)
5:00pm-8:00pm Open House - Community discussion on Infill Development Concept Plans - Kendall Sq. Urban Renewal Area (Marriott Hotel, 50 Broadway)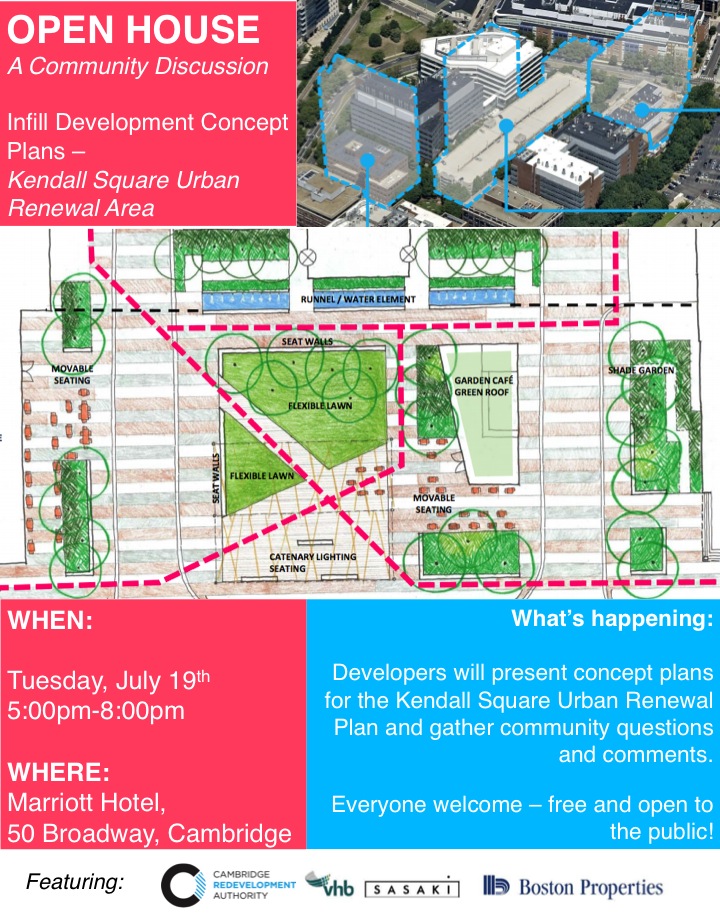 Wed, July 20
5:30pm Cambridge Redevelopment Authority Board Meeting (Police Station, 125 Sixth St., First Floor Community Room)
[Meeting Agenda and supporting materials]
Mon, Aug 1
5:30pm Special Midsummer City Council meeting (Sullivan Chamber)
Wed, Aug 17
5:30pm Cambridge Redevelopment Authority Board Meeting (Police Station, 125 Sixth St., First Floor Community Room)
[Meeting Agenda and supporting materials]
---
Mon, Sept 12
5:30pm City Council meeting (Sullivan Chamber)
Wed, Sept 14
8:00am Recycling Advisory Committee (Sullivan Chamber, City Hall)
Mon, Sept 19
5:30pm City Council meeting (Sullivan Chamber)
Wed, Sept 21
5:30pm Cambridge Redevelopment Authority Board Meeting (Police Station, 125 Sixth St., First Floor Community Room)
[Meeting Agenda and supporting materials]
Mon, Sept 26
5:30pm City Council meeting (Sullivan Chamber)
Wed, Sept 28
6:00-8:00pm Envision Cambridge Advisory Committee meeting (City Hall Annex, 344 Broadway, 4th Floor Conference Room)
---
Wed, Oct 12
8:00am Recycling Advisory Committee (Sullivan Chamber, City Hall)
Mon, Oct 17
5:30pm City Council meeting (Sullivan Chamber)
Wed, Oct 19
5:30pm Cambridge Redevelopment Authority Board Meeting (Police Station, 125 Sixth St., First Floor Community Room)
[Meeting Agenda and supporting materials]
Mon, Oct 24
5:30pm City Council meeting (Sullivan Chamber)
Mon, Oct 31
5:30pm City Council meeting (Sullivan Chamber)
---
Mon, Nov 7
5:30pm City Council meeting (Sullivan Chamber)
Wed, Nov 9
8:00am Recycling Advisory Committee (Sullivan Chamber, City Hall)
Mon, Nov 14
5:30pm City Council meeting (Sullivan Chamber)
Wed, Nov 16
5:30pm Cambridge Redevelopment Authority Board Meeting (Police Station, 125 Sixth St., First Floor Community Room)
[Meeting Agenda and supporting materials]
6:00-8:00pm Envision Cambridge Advisory Committee meeting (City Hall Annex, 344 Broadway, 4th Floor Conference Room)
Mon, Nov 21
5:30pm City Council meeting (Sullivan Chamber)
Mon, Nov 28
5:30pm City Council meeting (Sullivan Chamber)
---
Mon, Dec 5
5:30pm City Council meeting (Sullivan Chamber)
Mon, Dec 12
5:30pm City Council meeting (Sullivan Chamber)
Wed, Dec 14
8:00am Recycling Advisory Committee (Sullivan Chamber, City Hall)
Mon, Dec 19
5:30pm City Council meeting (Sullivan Chamber)
Wed, Dec 21
5:30pm Cambridge Redevelopment Authority Board Meeting (Police Station, 125 Sixth St., First Floor Community Room)
[Meeting Agenda and supporting materials]
---
Return to CCJ website: www.rwinters.com
If you just want to go for a walk and skip the civics:
AMC Local Walks - http://amcboston.org/walks