2010 CCJ Notes
[items moved from main page]
Dec 27, 2010 - "We've become a nation of wusses. The Chinese are kicking our butt in everything," he added. "If this was in China do you think the Chinese would have called off the game? People would have been marching down to the stadium, they would have walked and they would have been doing calculus on the way down." - Pennsylvania Governor Ed Rendell on the NFL's decision to move the Philadelphia Eagles' home game against the Minnesota Vikings from Sunday night to Tuesday evening.
---
Site for Cambridge Selected: December 28, 1630
ON THIS DAY...
...in 1630, the Massachusetts Bay Colony proprietors chose a site along the northern bank of the Charles River for their capital. They named it Newtowne, and laid out an orderly grid of streets fortified by a wooden palisade. It was the first planned town in English North America. Six years later, the colony's first college was established in Newtowne. In honor of the English university town, Newtowne was renamed Cambridge. Contemporary William Wood noted "this is one of the neatest . . . towns in New England, having many fair structures with many handsome . . . seats." Despite its well-ordered appearance, Cambridge did not remain the colony's capital. In 1638 the General Court settled five miles downstream, in the neighboring town of Boston.
Listen to this moment: http://www.massmoments.org/audio/December28%2EAIF1%2Em3u
Read more about this moment: http://www.massmoments.org/moment.cfm?mid=372
Visit Mass Moments to search past moments: http://www.massmoments.org
---
Dec 24, 2010 - Looking Ahead to the 2011 Cambridge City Council Election
Matt Nelson appears to be a candidate, Eddie Sullivan has renewed his candidate website, and some candidates are raising some serious money.....
Dec 16, 2010 - In response to the votes not going his way at the December 13 City Council meeting, Councillor Toomey submitted his resignation as Co-chair of the City Council's Ordinance Committee at 9:17am the following morning (Dec 14). It's possible that Mayor Maher will appoint someone else as Co-Chair, but perhaps it's time we got rid of this nonsense and went back to the way it was before with one Chair per committee. Anyone else want to resign? - RW
Our New Blue Laws (Boston Globe, Dec 10, 2010)
How Not to Run an Election:
A Month After Elections, 200,000 Votes Found (New York Times, by Sam Roberts)
---
A Show of Good Faith (Yvonne Abraham, Nov 25, 2010 Boston Globe)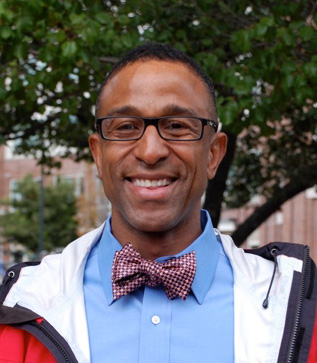 Henry A. Lewis III
A long time health and community advocate, Henry Lewis died unexpectedly November 13 in his home in Cambridge, MA. He is survived by his daughter, Anna Lucille Lewis; his parents, Lucille and Henry A. Lewis, Jr.; four siblings, Mark Lewis, Kemiko Y. Lawrence, LaMont C. Lewis, Takasha Young; his fiancee, Ariel Botta, 5 nephews, 1 niece, and a host of aunts, uncles, cousins & friends.
In lieu of flowers donations will kindly be accepted. Donations may be made to The Henry A. Lewis Memorial Fund at Leader Bank, 675 Massachusetts Ave., Cambridge MA 02139.
Visiting hours: Friday, November 19, 4-7pm at the A.J. Spears Funeral Home, 124 Western Ave., Cambridge. Relatives and friends most kindly invited. Interment Cambridge Cemetery. A.J. Spears Funeral Home Cambridge MA (617) 876-4047.
Funeral Service: Saturday, November 20, 10:00am at Christ Church Cambridge, Zero Garden St. Burial will follow at Cambridge Cemetery, 76 Coolidge Avenue, Cambridge, MA 02138.
Celebration of Henry's life is set for 1 to 3pm at Christ Church Cambridge.
Note: You can find many other photos of Henry as he led the October 3 "Bow Tie Ride" sponsored by the Cambridge Bicycle Committee. The picture shown is cropped from a photo by Ariel Botta. Henry worked for the Cambridge Public Health Department.
---
Nov 10, 2010 - The 2010 Cambridge Citizens Survey released on Nov 8 produced these results for its first question (results for 2004, 2006, 2008, and 2010):
Question 1. What do you think is the single most important issue facing the City of Cambridge today - the one that affects you and your family the most?
| | | | | |
| --- | --- | --- | --- | --- |
| | Sept 2010 | Sept 2008 | Sept 2006 | Oct 2004 |
| Education | 13% | 23% | 19% | 16% |
| Housing/Affordable housing/Rent Control | 7% | 13% | 22% | 23% |
| Crime/Drugs/Public Safety | 11% | 10% | 4% | 5% |
| Parking/Traffic/Infrastructure/Condition of Roads | 7% | 7% | 7% | 8% |
| Taxes | 3% | 5% | 11% | 3% |
| Economy | 9% | 4% | 2% | 2% |
| High Cost of Living | 1% | 3% | 3% | 3% |
| Homelessness/Poverty 2% 1% - 1% | 2% | 1% | - | 1% |
| Public Transportation | 4% | 1% | 1% | 1% |
| Healthcare | 2% | 1% | 2% | 1% |
| Government/Education/Politics | 3% | 1% | 3% | 3% |
| Environment | 2% | 1% | 3% | 1% |
| Better Management of City Services | 2% | 1% | - | - |
| Homelessness/poverty | 2% | - | - | 1% |
| Employment | 4% | - | - | 1% |
| None/Nothing | 1% | 1% | 1% | - |
| Other | 1% | 7% | 1% | 2% |
| Don't know/Refused | 25% | 15% | 19% | 24% |
This is a 25 page report, but it's interesting to note that the percentage of people who chose "Housing/Affordable housing/Rent Control" has declined from 23% in October 2004 to just 7% in September 2010 and this has been a steady decline from then until now.
In contrast, those who chose "Control Crime/Drugs/Public Safety" has increased from 5% to 11% during that same period. Similarly, the choice of "Economy" jumped from 2% in 2004 to 9% in 2010.
One of the more interesting statistics is the reversal of the trend in those who chose "Education" as the single most important issue. Though clearly a high priority during this entire period, the percentage went from 16% in 2004 to 19% in 2006 to a high point of 23% in 2008, but has now dropped substantially down to 13% in 2010. Could this mean that Cambridge residents are feeling better about Cambridge schools? It's important to note that the survey does not distinguish between charter schools, private schools, or public schools. - RW
---
Suspect Arrested in Connection with String of Street Robberies in Cambridge, Neighboring Communities
November 3, 2010 – During the early morning hours of November 3rd, members of the Cambridge Police Department, U.S. Secret Service, Massachusetts State Police, Somerville Police, Brookline Police, Harvard University Police, MIT Police, and Boston University Police worked jointly to arrest armed robbery suspect Santony Joseph, 23, of 9 Earl Street in Malden.
During the investigation of a number of armed street robberies in Cambridge and surrounding communities, police were able to locate the suspect in Medford. Detectives from both Brookline and Cambridge police departments observed a suspect operating a vehicle that fit the description of one of the suspects from the recent string of robberies.
After encountering the suspect and observing evidence inside the vehicle, Mr. Joseph was arrested and charged with armed robbery, armed robbery with a knife, and receiving stolen property with more charges to follow from Cambridge and other communities.
Cambridge Police convened a meeting where members of the department met with representatives from Somerville, Brookline, Harvard, MIT, and Boston University police departments to discuss the recent street robberies and formulate a strategy to address these incidents. Without the information sharing and cooperation that took place between the various law enforcement agencies that were jointly responsible in helping to apprehend this suspect, this arrest might not have been possible.
Cambridge Police are seeking the public's help in identify Mr. Joseph's accomplice(s) in these robberies, and ask anyone with information to please call the Cambridge Police Department at 617-349-3300.
For more information about these crimes and other important updates, please sign up to receive Citizen Alerts from the Cambridge Police Department at http://www.citizenobserver.com/cov6/app/group.html?id=2595.
---
Single Stream Recycling Started October 25th!
Oct 21, 2010 - A river runs through it - Harvard's long and complex ties to the Charles (Harvard Gazette)
Oct 17, 2010 - Bill Walsh
There's a lot going on right now in the civic landscape of Cambridge. Anyone who has been around for a couple of decades will surely note the sudden death several days ago of former Cambridge City Councillor Bill Walsh, a man who made more than his share of friends and enemies over the years. Indeed, some of his best friends became his most bitter enemies, and some of his greatest adversaries became his closest friends. I am certainly not the person to write any definitive story of the man. Like many others at the time, Walsh was the lawyer in 1985 for the person from whom I bought my house, and I was able to witness up close the wild frenzy that was the offices of Ferraro & Walsh during those crazy days of real estate wheeling and dealing, condo conversion, and speculative deals that promised big profits on quick turnarounds. I was even invited to invest money in some of those deals, but I never did. Not only did I not have the money, I also understood that something that sounds too good to be true generally isn't true.
My enduring sense of the man is as the janitor's son who grew up on Hurlbut Street and who was less than welcome among the "lace curtain" crowd of the local Irish. He was even less welcome among the genteel Brattle Street crowd whom he disdained. Like many Irish-Americans in Cambridge, Bill Walsh saw his hometown of Cambridge as a place not so far removed from the days when "Irish Need Not Apply" was the rule, even though it's unlikely that this was ever his own personal experience. Around 1990, he responded to a petition campaign to prevent the Commonwealth Day School, a very un-Yankee elementary school, from relocating to Brattle Street by making it into a personal campaign against the local upper crust. Bill, like many Irish-Americans, also saw politics as an essential tool for doing business and, perhaps, to even the score.
Though he ran successfully for a Cambridge City Council seat in 1985 and served until his sentencing for bank fraud in 1994, Bill Walsh's first attempt at political office was when he ran for City Council in 1971 at the young age of 26. He finished 12th in #1 votes and was the next to last candidate counted out. His ballots primarily transferred to fellow Independent candidates Dan Clinton (who was elected) and Lenny Russell (who was the next and last candidate to be defeated that year). After his 1985 election, it could be said that Bill Walsh saw himself as the central figure among local Independents, political opposites of the now defunct but at the time very powerful Cambridge Civic Association (CCA). Of course, since the 1940s the central figure among Independents was Edward Sullivan, Middlesex County Clerk of Courts, former City Councillor, former Mayor, and the brother of City Councillor Walter Sullivan. Walsh was something of an upstart, but he did manage to galvanize the forces opposed to rent control like no one before him. The thing that defined Bill Walsh's political role more than anything was his opposition to the rent control laws of the time.
Political players with the pro-rent control CCA hounded Walsh from the day he was elected to the day he went to jail in 1994. Some have suggested that these same political players dropped more than a dime or two to facilitate the prosecution. They were there most days at his trial. Ironically, the statewide passage of Question 9 in 1994 that ended rent control occurred soon after Walsh's conviction and just before his sentencing when he was forced to vacate his Council seat. The CCA then began it's own rapid descent into oblivion. Walsh's political career may have gone down in flames, but his efforts helped bring the CCA to the edge of ruin and, without rent control as their defining issue, they came unglued. Bill Walsh may now be gone, but the CCA preceded him in death.
It is widely acknowledged that Bill Walsh resumed his real estate wheeling and dealing after his release from prison, though he largely acted through other agents and remained out of the public eye. Some current city councillors clearly benefited from their ties to Walsh in recent years, though no one has definitively proven anything illegal in these deals. Nonetheless, association with Bill Walsh in recent years has always raised a few eyebrows and suspicions. It was only during the last few years that his presence would be acknowledged at public events along with other former elected officials.
I still think of Bill Walsh as the janitor's son who built his political and financial network by providing the means for working people to obtain property and wealth, but who was both reckless and somewhat unscrupulous in delivering those benefits. Perhaps his greatest violation was not any specific violation of law, but rather the fact that he left his friends in financial ruin when the speculative housing market soured in the early 1990s. Of course, anyone who chose not to see the Ponzi-like quality of some of Walsh's schemes must bear much of the responsibility for their own financial losses. Some choose to blame Walsh for the changing demographics of Cambridge after rent control, but there's more than enough evidence to suggest that this shift was already occurring and that the transition of Cambridge into the condo-dominated city it is today was inevitable. In any case, the passing of Bill Walsh is the passing of an era in Cambridge. -- Robert Winters
Obituary: William Holland Walsh of Cambridge and Ogunquit, Maine suddenly October 15, 2010. Beloved husband of Mary Hayes Walsh. Visiting hours in St. Peter's Church, 100 Concord Ave., Cambridge Wednesday 4-8pm. Funeral mass on Thursday at 10am at St. Peter's Church.
William Holland Walsh of Cambridge and Ogunquit, Maine, Suddenly Oct. 15, 2010. Beloved husband of Mary Hayes Walsh. Son of the late William J. and Catherine A. (Holland) Walsh. Nephew of Donal Holland of Ballineen, Cty. Cork, Ireland. Funeral mass in St. Peter's Church, 100 Concord Ave., Cambridge on Thursday at 10am. Relatives and friends kindly invited. Visiting hours will be held in the church on Wednesday from 4-8pm. Interment Cambridge Cemetery. In lieu of flowers please send donations in Bill's memory to St. Peter's School, 96 Concord Ave., Cambridge, MA 02138. In addition to serving as a Cambridge City Councilor for five terms, and serving the City he loved and his widespread constituency with tireless energy and enthusiasm; Bill had a very active law practice for many years. Although the firm, Ferraro and Walsh, was highly regarded for its work in the real estate field; there was no problem, big or small, that Bill did not take on, on behalf of his clients. His clients, many of whom became his friends over the years, were from all walks of life. Bill had great success both as an attorney and a real estate developer, but the true measure of his success was the degree to which he could help other people. Their success was his success. His good counsel, kindness, and caring touched the lives of countless people. He will be sorely missed but never forgotten.
Sign of the Times
Another marquee item on the civic landscape is the curious petition campaign to revoke recent amendments to the Zoning Ordinance relating to signage on commercial buildings. Most people didn't even know there was a provision in state law to challenge a local ordinance via a petition campaign. The relevant part of the Mass. General Laws is Chapter 43, Section 42:
Section 42. If, within twenty days after the final passage of any measure, except a revenue loan order, by the city council or by the school committee, a petition signed by registered voters of the city, equal in number to at least twelve percent of the total number of registered voters, and addressed to the city council or to the school committee, as the case may be, protesting against such measure or any part thereof taking effect, is filed with the city clerk, the same shall thereupon and thereby be suspended from taking effect; and the city council or the school committee, as the case may be, shall immediately reconsider such measure or part thereof; and if such measure or part thereof is not entirely rescinded within twenty days after the date of the certificate of the registrars, the city clerk shall submit the same, by the method herein provided, to a vote of the registered voters of the city, either at the next regular city election not less than thirty days after said twentieth day, or at a special election which the city council may, in its discretion, call for the purpose, and such measure or part thereof shall forthwith become null and void unless a majority of the registered voters voting on the same at such election vote in favor thereof.
The petition described in this section shall be termed a referendum petition and section thirty-eight shall apply to the procedure in respect thereto, except that the words "measure or part thereof protested against" shall for this purpose be understood to replace "measure" in said section wherever it may occur, and "referendum" shall be understood to replace the word "initiative" in said section.
To the best of my knowledge, this provision has never been invoked in Cambridge. As a fan of democracy, it's interesting to see it being put to use. On the other hand, most indications are that this has been little more than a bitter, well-funded campaign of retribution by one man - Philip "Terry" Ragon of Intersystems, a company which rents space in One Memorial Drive - a building that now also leases space to Microsoft. Cambridge voters would likely be out in front opposing the recent "Citizens United v. Federal Election Commission" decision of the United States Supreme Court that supposedly now facilitates the funding by corporate interests of major political campaigns. Yet this well-funded propaganda campaign by Intersystems and its agents brings barely a peep out of the Cambridge liberals. The inflammatory literature suggests that "Cambridge politicians are giving away our skyline to Wall Street." The literature refers to the amendment as "The Microsoft Amendment" and claims that it will bring "windfalls to wealthy landlords and out-of-state multinational corporations." I haven't seen BS propaganda like this since the days of rent control.
The petition campaign appears to have successfully scaled the first hurdle of submitting sufficient signatures. With approximately 60,000 registered voters, 12 percent translates into about 7200 required signatures. The campaign reportedly has submitted in the neighborhood of 16,000 signatures. Many will likely be deemed invalid, but it seems probable that the threshold will be met. So what happens next?
Let's be clear that the Cambridge City Council as a body was hardly deserving of a badge of courage in their 6-3 vote approving the amendments to the Zoning Code relating to signage. Councillor Davis did all she could to punt the matter before voting NO. Her rationale hardly came across as a matter of principle. Councillor Seidel gave every indication that he would be voting in favor of the amendment before doing a quick about-face and voting NO under the threat of political abandonment in next year's municipal election. Councillor Kelley can always be counted on to vote NO in matters such as this, so his vote surprised no one. Among the six councillors who voted YES to approve the measure, there was a refreshing air of deliberateness - regardless how one might feel about the merits of the amendment. Councillors Cheung and Decker, in particular, were forthright in their statements and expressed great clarity in their view that the amendment was nothing like what the propagandists would have people believe.
It will be interesting, perhaps even entertaining, to see what happens next. The City Council could rescind their approval and, by doing so, look like spineless and incompetent political jellyfish. That may be their best option. On the other hand, they could let the storm pass and allow the measure to be placed on the municipal ballot in 2011 coincident with their reelection campaigns. Gone are the good old days of rent control trench warfare. We'll have a municipal election dominated by propaganda about signs. There may be a $500 annual individual contribution limit for local candidates, but it will be sky's-the-limit for a "Citizens United" type of campaign in Cambridge indirectly instructing misinformed voters who they should vote for based on one hopelessly overstated and relatively unimportant issue. Perhaps the safest option for the City Council would be to dip into the public trough and fund a special election on this single item safely segregated from next fall's municipal election. In recent years, the Cambridge City Council has shown over and over again that incumbency protection is Job #1, so perhaps this is the most likely next step. -- Robert Winters
Update: At the Cambridge Election Commission meeting on Monday, Oct 18, I was informed that Election Commission staff had already certified about 8,125 signatures out of the approximately 16,000 submitted. The necessary threshold is about 7,200, so this appears to have been met. They will continue certifying signatures until they get through all that were submitted. The Election Commission will meet at 3:30pm Wednesday (Oct 20) to formally certify the work of the Election Commission staff who worked all weekend on the signatures.
Upon formal certification on Wednesday, barring any unforeseen challenge, the petition will go immediately to the City Clerk to bring before the City Council as specified in MGL Ch. 43, sect. 42.
Presumably, the matter will be before the Cambridge City Council next Monday, Oct 25. That meeting was originally supposed to be a Roundtable meeting, but an Order tonight changed it to a regular business meeting, quite possibly so that they can take up this matter.
References for Sign Ordinance amendments:
Ordinance #1335 (amendments to Sign Ordinance passed by City Council Sept 27, 2010) - (PDF version)
Sign Ordinance (Article 7.000 of Zoning Ordinance) as amended (PDF)
Simple beauties of math (yes, math) - (Harvard Gazette - Monday, October 4)
---
Sept 20 - What's the difference between the Cambridge City Council and a 4th grade classroom? Well, tonight it was hard to tell the difference. This was the first of two Roundtable meetings supposedly to get the City's biennial goal-setting process going. At the August 16 meeting of the City Council's Government Operations Committee, I was genuinely hopeful that this would be an interesting and productive process that might, in conjunction with the various City Council committees, lead to substantive initiatives for the next two years.
The first of these two meetings was to focus specifically on the (1) Human Services; (2) Neighborhood & Long Term Planning; (3) Health; (4) University Relations; and (5) Housing Committees. The next meeting (in mid-October) was to focus on the (1) Environment; (2) Public Safety; (3) Cable TV, Telecommunications, & Public Utilities; (4) Traffic, Transportation, and Parking; and (5) Economic Development, Training, & Employment Committees. This seemed like a real get-down-to-business approach. Now I'm not so hopeful. Indeed, upon re-reading the committee report, I see that all the specificity that was laid out at the meeting has been purged. Instead, the report states that these Roundtable meetings will consist of "reflection on the past year, consideration of which goals were met or not, what new issues and circumstances should the City Council consider in setting its goals for the upcoming budget year."
Tonight's Roundtable opened up with a facilitator explaining in the vaguest possible terms what she had planned for the evening. Speaking as though everyone in the room was no older than about 9 years of age, she asked the city councillors "what the meaning of a goal" was. I cringed. The flipchart (yes, this was one of those flipchart and marker meetings) indicated that tonight they would be discussing the strengths of the city, how great we are, and other folderol. Pardon my severe cynicism, but talk like this makes me want to upchuck.
When I vote every two years, I want very much to believe that we are electing adults - people who are not always starting on page one. When I go to a Roundtable meeting where elected officials and City administration are addressed like children (and some willingly respond like children), it makes me wonder about who we have elected. I would dearly love to see at least one of them speak up and throw a monkeywrench into the whole insipid process and demand that they act like adults and get down to business without the need to sing Kumbaya or get in touch with their feelings.
The entire goal-setting process will consist of the two Roundtable meetings plus a "world café" where councillors and other City officials invite various participants, and end with a "retreat" where the assembled councillors will presumably settle on their goals for the next two years. Perhaps I'll partake of the "world café" when it comes around (tentatively in early November), but tonight I was only able to stomach about ten minutes of the process.
Robert Winters, Council watcher and eternal cynic
Harvard Crimson story on the Roundtable (Sept 21, by Rediet Abede)
---
Aug 10, 2010 - "Cycle track": a sidewalk by another name
-- Letter by Paul Schimek submitted on August 10, 2010 to the City Council's Transportation, Traffic and Parking Committee. [Paul is the former Bicycle Program Manager for Boston and former MassBike and Charles River Wheelman board member.]
As City planners race ahead with plans for a separate bicycle facility on Concord Avenue (and possibly elsewhere), some would argue that this is a giant leap backwards in terms of bicycle safety and convenience. Count me among the naysayers. - RW
---
June 23 - Comments on proposed Western Avenue reconstruction - John Allen, CCJ Forum
The City is planning for full-depth reconstruction of Western Avenue between Central Square and Memorial Drive. Options for roadway design include reduction in travel lanes, angle parking, addition of either a bicycle lane or a "cycle track", and more. Feel free to comment on the article. There will be a Cambridgeport Neighbors Association presentation about this on Wed, June 23 at 7:00pm at the Woodrow Wilson Court Community Room. In addition, there will be a walk led by Jeff Rosenblum, Project Manager for the Western Avenue surface design (CDD) on Sun, June 27 starting at 4:00pm at Andala Café. A Community-Wide Public Meeting is scheduled for Tues, June 29 from 7:00pm to 9:00pm at the Senior Center (806 Mass. Ave., open house starts at 6:30pm). - RW
---
COMMUNITY ADVISORY (from the Harvard University Police)
Armed Robbery - Broadway and Dana Street, Cambridge
On Tuesday, October 26, 2010 a male graduate student reported to the Cambridge Police Department that he was robbed by two unknown males as he walked along Broadway near Dana Street at approximately 9:55pm. The victim stated that while walking on Broadway he was approached from behind by two males who demanded all of his property, while displaying a knife. The victim handed over all of his property at which time the offenders fled the area. The victim was not injured during the incident.
Because this incident did not occur on Harvard University property, it is being investigated by the Cambridge Police Department. If anyone has any information regarding this incident, please contact the Cambridge Police Department at 617-349-3300.
Citizen Alert from Cambridge Police
Citizens Asked to be Vigilant After String of Street Robberies in MIT Area
October 27, 2010 – Cambridge Police are currently investigating four possibly related incidents in the vicinity of Area 4, Cambridgeport, and Mid-Cambridge areas.
Two of the incidents occurred on 10/22/10 between 7:45pm and 8:20pm with approximately 30 minutes between incidents. Two additional robberies occurred on 10/26/10 at 9:55pm and 10:10pm, with approximately 15 minutes between incidents.
Three of the five robbery victims were white males between the ages of 25 and 30 years of age who were walking alone. In one of the robberies there were two white male victims between 25 and 30 years of age.
In three of the four incidents, the victims were approached from behind by two black males who immediately brandish a knife and relieved the victims of their wallets, backpacks, laptops, and cell phones.
Currently, Cambridge Police are looking for two black male suspects, possibly in their late teens or early twenties. One suspect is described as chubby and the other suspect is described as tall with a thin build and dark skin.
Cambridge Police are actively investigating these crimes and are sharing information with MIT & Harvard Police Departments. This string of robberies will also be the focus of the department's BridgeStat meeting on 10/28, with more information being made available in the October release of BridgeStat which will be available next week on the Cambridge Police Department website.
Cambridge Police would like to remind students and citizens to take the following precautions when walking at night:
• Be aware of your surroundings at all times and trust your instincts.
• Always walk with a friend or in a group when possible.
• Walk with confidence on the street and at a good, steady pace. Keep your head up and observe your surroundings don't look down at the ground.
• Do not where ear buds, headphones, or listen to music when walking alone.
• If you feel you are being followed, show you are suspicious – turn to look at the person. It sends a clear message that you will not be taken by surprise.
• Change directions. If someone is following you on foot, cross the street and vary your pace. If the person following you is in a car, turn and walk in the opposite direction.
More safety tips are available at the Cambridge Police Department website.
Anyone with information about these crimes or possible suspects is asked to call the Cambridge Police Department at 617-349-3300.
---
Sept 18 - Man Found in Front of Church in Harvard Yard After Shooting Himself (Harvard Crimson)
The last few sentences of the Crimson story: A message sent by Harvard's emergency notification system around 12:22 p.m. read: "Man in Harvard Yard suffered self-inflicted gunshot wound. Incident Over. No Ongoing Threat." At that time, the man remained lying on his back on the steps of Memorial Church. While police milled about the east side of the Yard, tours continued on the opposite side of University Hall where people blithely continued rubbing the foot of the John Harvard statue.
---
Sept 14: If you're looking for local Cambridge election results, specifically the Middlesex, Suffok, & Essex State Senate race, I'll be updating results tonight at http://cambridgecivic.com/?p=925.
Sept 9 - New developers take over NorthPoint (Boston Globe)
---
Nov 2, 2010 State Primary Candidates (for Cambridge voters)
Contested races highlighted
Governor/Lt. Governor
Democrat: DEVAL L. PATRICK / TIMOTHY P. MURRAY (incumbent)
Republican: CHARLES D. BAKER / RICHARD R. TISEI
Green Party: JILL STEIN / RICK PURCELL
Independent: TIM CAHILL
Treasurer
Democrat: STEVEN GROSSMAN
Democrat: STEPHEN J. MURPHY
Republican: KARYN E. POLITO
Auditor
Democrat: SUZANNE M. BUMP
Democrat: GUY WILLIAM GLODIS
Democrat: MIKE LAKE
Republican: MARY Z. CONNAUGHTON
Republican: KAMAL JAIN
Green Party: NAT FORTUNE
(will appear only on the November ballot)
Attorney General
Democrat: MARTHA COAKLEY (incumbent)
Republican: JAMES P. MCKENNA
Secretary of State
Democrat: WILLIAM FRANCIS GALVIN (incumbent)
Republican: WILLIAM C. CAMPBELL
Unenrolled: JAMES D. HENDERSON
Representative in Congress (8th District)
Democrat: MICHAEL E. CAPUANO (incumbent)
Governor's Council (3rd District) [Pcts. 9-2, 9-3, 10-1, 10-3; Ward 11 (all)]
Democrat: MARILYN M. PETITTO DEVANEY (incumbent)
Democrat: COREY A. BELANGER
Governor's Council (6th District) [Wards 1 through 8 (all precincts); Pcts. 9-1, 10-2]
Democrat: TERRENCE W. KENNEDY
Democrat: SUZANNE R. ENGLISH-MERULLO

Republican: PAUL A. CARUCCIO
Independent: SCOTT C. CRABTREE
Unenrolled: ANDREW W. MOSTONE
State Senate
First Suffolk and Middlesex District [Ward 1 (all); Ward 2 (all); Pcts. 3-1, 3-3; Ward 4 (all); Ward 5 (all); Pct. 8-3]
Democrat: ANTHONY W. PETRUCCELLI (incumbent)
Republican: FRANK JOHN ADDIVINOLA, JR.
Second Suffolk and Middlesex District [Pcts. 9-2, 9-3, 10-1, 10-3; Ward 11 (all)]
Democrat: STEVEN A. TOLMAN (incumbent)
Democrat: WILLIAM B. FEEGBEH
Middlesex, Suffolk and Essex District [Pct. 3-2; Ward 6 (all); Ward 7 (all): Pcts. 8-1, 8-2, 9-1, 10-2]

Democrat: SAL N. DiDOMENICO (incumbent)


Democrat: TIMOTHY R. FLAHERTY
Republican: BARBARA T. BUSH
State Representative
Eighth Suffolk District [Pcts. 2-3, 3-3; Ward 5 (all)]
Democrat: MARTHA MARTY WALZ (incumbent)
Republican: BRAD MARSTON
Ninth Suffolk District [Pct. 2-2]
Democrat: BYRON RUSHING (incumbent)
24th Middlesex District [Pct. 10-3; Ward 11 (all)]
Democrat: WILLIAM N. BROWNSBERGER (incumbent)
25th Middlesex District [Ward 4 (all); Pcts. 6-2, 6-3; Ward 7 (all); Ward 8 (all); Pcts. 10-1, 10-2]
Democrat: ALICE K. WOLF (incumbent)
26th Middlesex District [Ward 1 (all); Pcts. 2-1, 3-1, 3-2, 6-1]
Democrat: TIMOTHY J. TOOMEY, JR. (incumbent)
29th Middlesex District [Ward 9 (all)]
Democrat: JONATHAN HECHT (incumbent)
District Attorney (Northern District)
Democrat: GERARD T. LEONE, JR. (incumbent)
Sheriff (Middlesex County)
Democrat: JAMES V. DiPAOLA (incumbent)
Unenrolled: MICHAEL S. TRANCHITA, SR.
Where do I vote?
Comment: My general practice is to leave blank any uncontested race. If you are given no choice, why pretend that you have one? - RW
---
For your consideration:
The Latest on Councillor Decker's Real Estate Saga - Part 1 (by Mark Jaquith, Aug 26, 2010)
The Latest on Councillor Decker's Real Estate Travails- Part II (by Mark Jaquith, Sept 2, 2010)
No comments here - either explicit or implicit, but it's definitely newsworthy.
---
Aug 13 - Cambridge Health Alliance seeks buyer or partner (Boston Globe, Aug 13, 2010)
---
When 81% Passing Suddenly Becomes 18% (New York Times, Aug 1, 2010)
Excerpt: "At some schools, the drop was breathtaking. At Public School 85 in the Bronx, known as the Great Expectations School, there was a literal reversal in fortune, with proficiency on the third-grade math test flipping from 81 percent to 18 percent. At the main campus of the Harlem Promise Academy, one of the city's top-ranked charter schools, proficiency in third-grade math dropped from 100 percent to 56 percent.
"There are two reactions those of us in this business can have," said Geoffrey Canada, the chief executive of the Harlem Children's Zone, which operates the school. "One is to complain, and it's human nature to do that. The other is to say we need to do something dramatically more intensive and powerful to prepare our kids. We are going to look at the mirror and say we have got to do better."
---
Aug 1, 2010 - Massachusetts for Palin? (a Boston Globe column by Jeff Jacobi on the "National Popular Vote" legislation recently passed by the Massachusetts Legislature)
While many good arguments can be made for or against this "National Popular Vote" (NPV) proposal, there are significant aspects that are routinely ignored by those on either side of the debate. Foremost among these is the fact that it would radically change the way US presidential campaigns are conducted. No longer would it be important to conduct a "retail campaign" in any pivotal state. Instead, we could expect to see a nationwide "wholesale campaign" that will likely be the political equivalent of "American Idol" - light on substance and heavy on image. [It must be acknowledged that this is already somewhat the case.] Each campaign would likely dedicate much of their resources toward mining the maximum number of votes out of their most productive states. In a sense, they will instead do in their strong states what they now do in "battleground states".
Another point that must be made (and one conveniently ignored by NPV proponents) is that examples of past presidential elections in which the plurality winner was not elected are not nearly as relevant as some would suggest. Had the rules been different, the campaigns and ultimately the vote totals would also have been quite different. To say that Al Gore would have won the presidency in 2000 had there been a National Popular Vote is very naive. Sure, that could have been the result, but both campaigns would have been conducted completely differently. Each party would have spent most of their resources in their strongholds. States of smaller population would have received a limited diet of wholesale political advertisements. The essence of the campaign would have been that the Democrats would have pumped up their numbers in the "blue states" and the Republicans would have pumped up their numbers in the "red states". The whole game would have been different from the outset.
For those who care how the various Cambridge legislators voted on the NPV bill, here's the tally: In the House, Jonathan Hecht, Byron Rushing, Tim Toomey, Marty Walz, and Alice Wolf voted YES, and Will Brownsberger voted NO. In the Senate, Sal DiDomenico, Anthony Petruccelli, and Steven Tolman all voted YES. For what it's worth, Sal DiDomenico's primary opponent Tim Flaherty has also said he would have voted YES. I have to say that Will Brownsberger continues to impress me as the rarest of rare - an independent voice in the state legislature, one who is not guided entirely by "talking points" memos from advocacy groups and political organizers. I wish we had more like him. - RW
---
July 21 - There was an interesting Bloomberg News story in the Boston Globe today: Residents protest pay of California city manager.
What was especially interesting is not just that the city manager of Bell, CA gets $800,000 per year and that the the police chief gets $457,000 per year, but this line: "California law limits the salaries of council members to several hundred dollars a month, depending on the size of the city..."
What struck me as interesting was that Cambridge City Council members over the years have come back from National League of Cities conferences around the country speaking about various things other cities have done that should be considered by Cambridge. Notable among such cities was, I believe, Santa Monica, CA but there have been other California cities mentioned. Funny how this little fact about salary limits in California went unmentioned. - RW
Follow-up story (Boston Globe, July 24): The most egregious crooks in Bell, CA have agreed to give up their city jobs, but they will now receive extraordinary pensions based on their outrageously overinflated salaries (Rizzo more than $650,000 a year for life, Adams more than $411,000 a year for life, and Spaccia as much as $250,000 a year for life).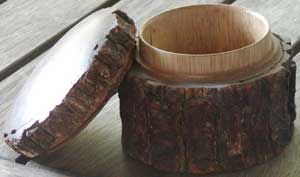 Circular box carved from a
piece of the Washington Elm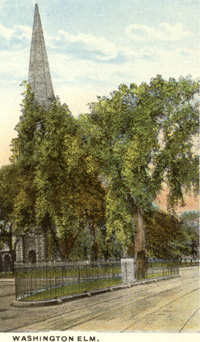 July 6 - It is with sadness that we inform you of the passing of William H. Frazier. Bill passed away on July 4, 2010. A Funeral Mass will be held on Friday at Sacred Heart Church in East Cambridge (6th Street) at 10:00am. Burial in Cambridge Cemetery. Visiting hours at Keefe Funeral Home, 2175 Mass Ave., Thursday 4-8pm.
Bill Frazier began working for the Department of Public Works in 1947 after he served in the US Coast Guard during WWII. Bill retired as the Superintendent of Sanitation in 2006. The William Frazier Administration building at 147 Hampshire Street is dedicated to his 59 years of extraordinary service.
Note: Bill Frazier was a resident of Fainwood Circle in Mid-Cambridge. He was 86 years old.
June 28 - Robert Byrd, Respected Voice of the Senate, Dies at 92 - New York Times
This was a great man. - RW
---
Shredding Day - July 31, 2010
The City is declaring July 31st as Shredding Day as a way to promote awareness about identity theft, specifically where many identity thieves obtain personal information by stealing or sorting through discarded personal mail (bank statements, medical records, etc) that is not shredded or ripped up. As such, the Cambridge Consumers Council has partnered with the Commonwealth's Office of Consumer Affairs and Business Regulation and the United States Postal Service in procuring shredders for consumers. On July 31st, consumers are invited to bring their personal documents to the Central Square Post Office from 9:00am to 1:00pm to use these shredders. A press conference will be held that morning at 9:00am with the Undersecretary of the Commonwealth, Barbara Anthony. Educational information about preventing and recognizing identity theft will also be disseminated throughout the day.
In His Own Words: Craig Kelley, June 13, 2010
"I'm working on scheduling a Committee meeting to explore changing our parking fee structure, but anecdotally I have learned that for a lot of people, even a massive increase of a few hundred bucks per sticker wouldn't change whether they own a car or not. To some extent, that makes sense - a 300 dollar a year parking permit fee (to pick a number) is relatively small bucks when compared to 1500 bucks a month or more rent, mortgage payments, the cost of owning and maintaining a car a so forth. And for many people, if not most, a car is as almost as necessary to their lifestyle (whether it be commuting to work in Reading, taking the kids to soccer in Newton or visiting friends in Quincy) as housing and food. They won't be happy to pay that 300 bucks, but they won't see they have much choice. For folks who truly have 'extra' cars, this fee may be enough to convince them to get rid of the extras, but I can't imagine that number is big enough to have much of an impact on our parking issues."
---
June 9 - California Voters Back Election Overhaul (New York Times)
"The proposal, Proposition 14, drew the support of a commanding three-fifths of voters. It will establish a so-called 'top two' system, which sets up an open primary — with all candidates running on a single ballot, regardless of political affiliation — and only the top two vote-getters proceeding to the general election."
I've been advocating such a system for Massachusetts elections for some time. Just look at the upcoming governor's race where three candidates (Patrick, Baker, Cahill) will go essentially unopposed in an irrelevant September primary followed by a November election in which it is likely that no candidate will win a majority of votes. In many states, when no candidate wins a majority, even in a party primary, a two-candidate runoff election must take place. Why shouldn't Massachusetts conduct elections this way? - RW
---
June 6: My message to NSTAR's customer service e-mail address after the thunderstorm
A tree limb fell on June 6 at the corner of Lee Street and West Street in Cambridge, Mass. I called 1-800-592-2000 and could not get through. First it was your thoroughly annoying "automatic operator" and then being put on eternal hold. I give up.
Do you actually have a way to be reached in the event of an emergency?
Here's the information: Several tree limbs fell in the vicinity of Lee Street and West Street in Mid-Cambridge (Zip 02139) during this afternoon's thunderstorms. The power line has not yet come down, but there are limbs now leaning on and dangling from one of the high voltage lines that should be taken off with a bucket truck before they cause the wire to come down.
It is thoroughly ridiculous that I have to attempt to contact NStar in this indirect way. I have been on hold on the phone forever. All I wanted was to leave a message and your idiotic system said I would be given the opportunity to do this if a human being was unavailable.
Is anyone in charge at NStar or is your robot automatic operator the CEO of the company? -- Robert Winters
PS - After nearly an hour on hold, I finally was able to leave a message. What if it had been a live wire on the ground? Is this any way to run a utility company?
---
May 25: Message to Susan Clippinger, Director of Traffic, Parking, & Transportation
Annoying as it is to have parking meters in front of my house at which you personally park YOUR car all day on most days, it is especially annoying when one of your thoroughly unprofessional parking officers chooses to harass me for pulling up in front of my house to unload groceries for all of two minutes without feeding the meter. When I asked her to just cut me some slack, she circled back to the meter getting ready to write me a ticket. She told me to take it up with you, so I am.
From which pool exactly do you draw your employees, Susan? Recent news stories [1, 2] suggest it's a rather shallow pool. This particular "officer" is apparently well known for her harassment of people. I feel certain that now that she has matched my address, my face, and my vehicle I can expect to get "special treatment" from her at every turn. Perhaps I'll point her out to you when next we meet. In the meantime, perhaps you'll finally give some consideration to a policy regarding people without driveways and with parking meters in front of their homes. In my case, the primary users of the metered spaces on Broadway and on Inman Street are those coming to visit your very own department at 344 Broadway. Would it be so difficult for you to instruct your officers to cut some slack for the actual residents of these streets who need to occasionally unload groceries? Would that kill you, Susan?
Councillor Toomey has raised this issue on numerous occasions and you've ignored him every time. No wonder most elected officials hold you in such low regard. If the state-mandated Traffic Board existed, I would petition them, but you have chosen to ignore state law for many years now - leaving citizens no recourse other than to beg you when they feel a regulation should be changed. In the meantime, just cut us a little slack, OK? - Robert Winters
Do you have any other tales to tell of Cambridge Traffic & Parking?
---
Apr 19 (updated May 25) - Same Roads, Same Rules - The City of Cambridge has plans to force cyclists to ride on the sidewalk on Concord Avenue along the northern boundary of the Fresh Pond Reservation. This is a Bad Idea for many reasons and hopefully these plans can be stopped. Here are a few resources where you can learn more about this dreadful idea:
http://bicycledriving.org/roads/save-the-bike-lanes-on-concord-ave
http://john-s-allen.com/blog/?p=859 http://cambridgecivic.com/?p=636
John Allen (the most expert person I've ever known regarding bicycle safety) and Jessica Eckhardt spoke at the May 24 City Council meeting about the serious safety problems of this proposed project. There was little, if any, public process in the planning of this project and it's not too late for reason to prevail and for the design to be modified. - RW
---
May 18 - Nixon 'enemy' Hans Loeser, 89; admired, civic-minded lawyer (Boston Globe)
---
May 11 - Welcome to the World of More
Today Comcast, a.k.a. The Evil Empire, began encrypting all their previously clear QAM channels on Cable TV. This means that everyone who had been able to continue viewing the channels they had with Expanded Basic either via a newer TV or using a QAM tuner have now lost all those channels and can now receive only the basic broadcast channels (what you can get for free off the air) plus New England Cable News plus the municipal offerings. In order to receive anything more, you have to pay ten times as much.
The Cambridge City Council loves intervening in places like El Salvador and Arizona, and in the labor practices of companies and institutions over which it has no control, yet will they say or do anything against the monopolistic Comcast? Don't hold your breath. Just stop paying your bill. - RW
---
Massachusetts Teachers Association Elects Toner President, Sullivan Vice President
The new association leaders take office July 15.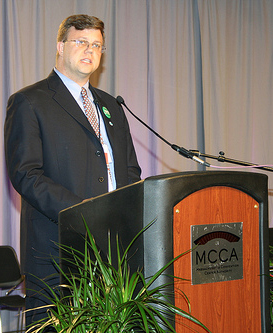 Paul F. Toner is the new president of the 107,000-member Massachusetts Teachers Association. Timothy D. Sullivan was elected vice president. They were elected May 8 at the MTA Annual Meeting of Delegates, in Boston, which was attended by more than 1,100 educators and staff from public schools and colleges across the state.
Toner, a Cambridge middle school teacher, is currently MTA vice president. He replaces Anne Wass, a Hanover teacher whose second term as president expires on July 15. The MTA president and vice president may serve a maximum of two two-year terms.
Sullivan, a Brockton middle school teacher, is currently president of the Brockton Education Association. Toner defeated Paul J. Phillips, a high school teacher from Quincy; Sullivan ran unopposed.
In a statement, Toner pledged that "MTA will lead the fight for positive change in order to improve our schools and support our students.
"Where there are issues to be addressed, such as significant achievement gaps between our student populations, we will not shy away from these challenges," he continued. "Teachers and their unions are not the problem; we have the solutions."
Sullivan promised to "meet head-on those who seek to diminish our collective voices. After all, it is the practitioner – whether classroom teacher, college professor or education support professional – who has the front-line experience to speak for education."
Toner taught social studies and reading to seventh- and eighth-grade students at the Harrington Elementary School in Cambridge from 1993 to 2001, when he was elected president of the 1,100-member Cambridge Teachers Association. In 2006, he was elected vice president of MTA.
A graduate of Boston University and the University of Massachusetts in Boston, Toner also holds a law degree from Suffolk University. He lives in Cambridge with his wife, Susan Connelly, and their school-age children, Grace and Jack.
Sullivan taught Title 1 reading and was an Instructional Technology Specialist at South Middle School in Brockton before being elected president of the Brockton Education Association in 2006. He studied at Barrington College in Rhode Island, East Nazarene College, Bridgewater State College, and holds a doctorate in education from UMass Lowell. He and his wife, Joyce, live in Weymouth with their son, Timothy Jr.
Toner and Sullivan will take office July 15.
---
May 7, 2010 - Unclear Result in Britain Puts Focus on Electoral Rules (New York Times)
"The Liberal Democrats, supported by the Electoral Reform Society, favor a type of proportional representation based on the so-called single transferable vote."
---
Apr 12 – NorthPoint continues to go south – By Paul McMorrow of Banker & Tradesman (Boston Globe Op-Ed)
---
Middle Grades Program
Recommendations of Jeffrey M. Young, Cambridge Superintendent of Schools
February 2, 2010
Cautious committee asks superintendent to flesh out middle school recommendation
By Marc Levy's blog
---
Thursday, Feb 25, 2010 - The Cambridge Democratic City Committee (CDCC) will meet tonight at 7:00pm at the Central Square YMCA (820 Mass. Ave.) to nominate three people for one of the two Democratic seats on the Cambridge Election Commission. There are five candidates seeking this position (see below). The practice of each of the two major political party committees has been to rank their three nominees, but there is nothing in the law that either requires this or even suggests this practice. It's only purpose is to pressure the City Manager to abide by the preferred choice of the political committee, and this choice is often dictated by which candidate is able to pack the meeting when the nominations are determined. There is also a history of using an exclusionary strategy to nominate three candidates as a group solely to ensure that one of the other candidates is not among the three nominees. (This is exactly what occurred last year with the Republican City Committee.) The City Manager is under no obligation to pay any attention to the pecking order of these political committees (nor should he). It's unfortunate that he is restricted to only these three nominees, but this restriction dates back to the establishment of the Cambridge Election Commission in response to claims made about 90 years ago that the Democratic mayor at that time (long before Plan E) was nominating "Republicans in name only" to the Board of Registrars, the predecessor of the Election Commission.
While I have a long-standing practice of never endorsing individual candidates for public office, the choice of an election commissioner is an appointment to a City board and is not a public election (only City Committee members may vote). Because my interest in the Cambridge elections (for both civic and academic reasons) is significant, I will say that the best choice by far for this position is Tom Stohlman. He was a candidate in the recent municipal election and has been actively involved in the campaigns of other candidates over the years. He is not only one of the most likeable and agreeable people I've met during my 32 years in Cambridge, he also has a lot of expertise in the mechanics of the Cambridge elections. He would also be the perfect choice to move the Election Commission in the direction of improved public information about our local elections. In terms of the interpersonal relations of the 4-person Election Commission and how the Commission will work with its soon-to-be-appointed new Executive Director, there is no doubt that Tom would be the ideal choice. This is not meant as a negative statement about any of the other four candidates, but only as an affirmation of just how good a choice Tom would be for this position.
Unfortunately, though I am a CDCC member, I teach a class every Thursday night and cannot attend this meeting. If you are a voting member and can attend this meeting, please cast a vote tonight for Tom Stohlman - preferably the top choice, but please make sure he's on the list of three nominees and that the City Manager chooses wisely from these three nominees. -- Robert Winters
Update: Not unexpectedly, Linda Pinti, Mushtaque Mirza, and Martha Older collaborated in a partially successful preclusionary strategy to box out the competition. They were able to get Linda Pinti nominated as 1st choice and Mushtaque Mirza as 3rd choice with Poly Cobb getting the 2nd choice. These are the same results as last time and there's no reason to believe the City Manager's appointment will be any different this time, so congratulations goes to Poly Cobb for successfully fending off the competition and virtually assuring her reappointment!
Unfortunately, the best candidate of all, Tom Stohlman, was not included among the three nominees to be sent to the City Manager. I once characterized the Cambridge Democratic City Committee as political hospice. I believe the shoe still fits. For those who might actually care, here's how the vote went:
Round 1: Pinti 59, Cobb 46, Stohlman 5, Mirza 1 (Older withdrew from Round 1). Pinti has majority, so gets #1 nomination.
Round 2A: Cobb 51, Mirza 46, Stohlman 9 (Older withdrew from Round 2). No majority, drop lowest candidate (Stohlman).
Round 2B: Cobb 51, Mirza 51 (tie). After much debate, decide to revote.
Round 2C: Cobb 54, Mirza 47. Cobb gets #2 nomination.
Round 3: Mirza 63, Stohlman 25 (older withdrew from Round 3). Mirza gets #3 nomination.
Had I been able to attend this meeting, I might have told the CDCC, all of its officers, and most of its members what I really think of them. Instead, I taught a great Linear Algebra class at the Harvard Extension School and had a greater impact in one evening than the CDCC has made all year. - RW
---
Attention Cambridge Democrats! Want to be an Election Commissioner? Fill out the questionnaire and submit it no later than 5:00pm on Monday, February 1. The Cambridge Democratic City Committee will have a public forum with all candidates for the three nominations on Thursday, February 11 at 7:00pm and a vote on Thursday, February 25 at 7:00pm (Central Square YMCA). [A Candidate is Qualified if s/he has completed and submitted a Questionnaire to the City Committee and has been present and responded to questions at a public hearing.]
Candidates who Submitted Questionnaires by the Feb 1 deadline are:
Polyxane S. (Poly) Cobb, Mushtaque Alikhan Mirza, Martha J. Older, Linda Sophia Pinti, Thomas J. Stohlman, Jr.
U.S. Census 2010 Job Fair
Monday March 8, 2010
11:00am to 6:00pm at the Somerville Holiday Inn
30 Washington St., Somerville, MA 02143
Due to the large number of people needed to conduct the 2010 Census, the US Census Bureau is hiring people looking to work in their community. Whether you are a student, retiree, job seeker, or a full time worker looking to make additional income, the Census is a tremendous opportunity to help your community and gain valuable experience.
Come and meet the hiring managers, learn more about the US Census and discuss current job opportunities.
Positions Available:
Census Takers -- Office and Field Clerks -- Crew Leaders -- Crew Leader Assistants
Flexible hours: 20-40 hours per week
Pay ranges from $16.50 - $23.50 per hour based on geographic location.
Applications and basic skills assessments will be conducted at this Job Fair for those interested. Applicants are asked to bring either a valid Passport or a Driver's license and a Social Security card or a Birth Certificate. Call the U.S. Census Medford Office for more information 781-497-9710.
To schedule an interview about the Somerville Census Job Fair and the regional recruiting efforts, please contact:
Kathleen Deshields, Office Manager
U.S. Department of Commerce, Bureau of the Census, Medford Office
300 Sylvan Avenue, Suite 1640, Woburn, MA 01801
Phone: 781-497-9712
---
CENSUS WORKERS NEEDED IN CAMBRIDGE
The U.S. Census Bureau is offering good-paying, part-time jobs to qualified applicants. Census Enumerators are being hired in Cambridge at $22 per hour. Bi-lingual candidates are encouraged to apply. To schedule an appointment to take an employment test and submit an application, call 1-866-861-2010. More information, including a practice test, is available at www.2010censusjobs.gov.
Feb 23 - Forest City sells (equity share in) 7 buildings in Cambridgeport - considering purchase of NorthPoint development in East Cambridge (Boston Globe)
Feb 22, 2010 (revised) - How has voter turnout changed in the Cambridge municipal elections over the last 58 years? Here are the numbers:
| | | | |
| --- | --- | --- | --- |
| YEAR | VOTERS | TURNOUT | % TURNOUT |
| 1951 | 55294 | 37252 | 67% |
| 1953 | 57181 | 39000 | 68% |
| 1955 | 53638 | 36232 | 68% |
| 1957 | 52244 | 34391 | 66% |
| 1959 | 48630 | 34287 | 71% |
| 1961 | 49545 | 33239 | 67% |
| 1963 | 47054 | 32936 | 70% |
| 1965 | 46306 | 31819 | 69% |
| 1967 | 44805 | 31386 | 70% |
| 1969 | 42570 | 25613 | 60% |
| 1971 | 44623 | 30401 | 68% |
| 1973 | 47516 | 26248 | 55% |
| 1975 | 45292 | 27969 | 62% |
| 1977 | 48796 | 23593 | 48% |
| 1979 | 44952 | 26908 | 60% |

| | | | |
| --- | --- | --- | --- |
| YEAR | VOTERS | TURNOUT | % TURNOUT |
| 1981 | 47973 | 25569 | 53% |
| 1983 | 45616 | 30053 | 66% |
| 1985 | 48134 | 24393 | 51% |
| 1987 | 44941 | 23860 | 53% |
| 1989 | 47461 | 27593 | 58% |
| 1991 | 44730 | 23335 | 52% |
| 1993 | 46235 | 22142 | 48% |
| 1995 | 41708 | 19183 | 46% |
| 1997 | 43002 | 17229 | 40% |
| 1999 | 58666 | 19161 | 33% (45% of "active" voters) |
| 2001 | 56973 | 17688 | 31% (40% of "active" voters) |
| 2003 | 55831 | 20958 | 38% (51% of "active" voters) |
| 2005 | 56641 | 16202 | 29% (39% of "active" voters) |
| 2007 | 56339 | 13721 | 24% (35% of "active voters") |
| 2009 | 59866 | 16073 | 27% (35% of "active voters") |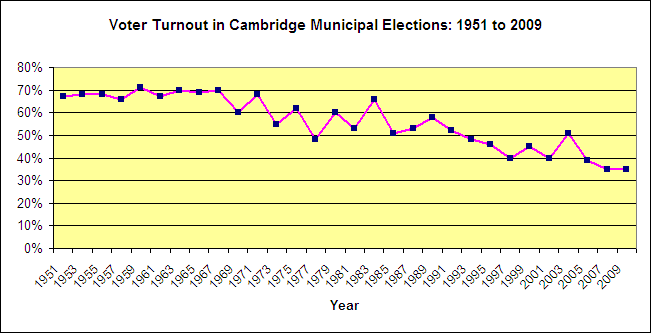 Notes:
Of the 58666 registered voters in 1999, 42500 were listed as "active", so if you were to use that as a better measure of actual potential voters, you'd have a percentage of 45% rather than the 33% caused by the provisions of the Motor-Voter Law.
Of the 56973 registered voters in 2001, 43911 were listed as "active" giving turnout of 40% of active voters and 31% of all registered voters.
Of the 55831 registered voters in 2003, 41069 were listed as "active" giving turnout of 51% of active voters and 38% of all registered voters.
Of the 58666 registered voters in 2005, 41271 were listed as "active", giving turnout of 39% of active voters and 29% of all registered voters.
Of the 56339 registered voters in 2007, 39462 were listed as "active", giving turnout of 35% of active voters and 24% of all registered voters.
Of the 59866 registered voters in 2009, 45799 were listed as "active" giving turnout of 35% of active voters and 27% of all registered voters.
Feb 22, 2010 -- The Cambridge City Council tonight unanimously elected David Maher as Mayor and Henrietta Davis as Vice-Chair of the City Council. Here are the deciding ballots for Mayor and Vice-Mayor:
| | | |
| --- | --- | --- |
| Councillor | Ballot #6 for Mayor (Feb 22) | Ballot #1 for Vice-Chair (Feb 22) |
| Cheung | Maher | Cheung --> Davis |
| Davis | Davis --> Maher | Davis |
| Decker | Maher | Cheung --> Davis |
| Kelley | Davis --> Maher | Davis |
| Maher | Maher | Cheung --> Davis |
| Reeves | Maher | Davis |
| Seidel | Maher | Davis |
| Simmons | Davis --> Maher | Davis |
| Toomey | Maher | Cheung --> Davis |
Councillor Simmons moved to make the mayoral vote unanimous for David Maher.
Councillor Cheung moved to make the vice-mayoral vote unanimous for Henrietta Davis.
The Mayors of Cambridge since 1893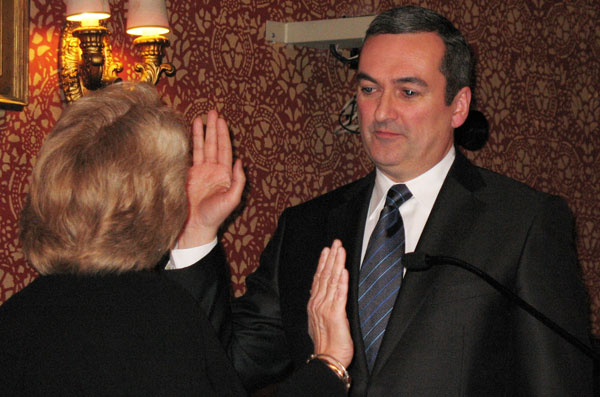 Photo by Bob Travers
Smooth bond sale benefits high school renovation, sewer project (Mark Levy's blog, Feb 17, 2010)
---
Jan 22, Jan 25 - The Plot Thickens.....
The contest to determine who will fill the State Senate seat formerly occupied by Anthony Galluccio is getting interesting. It exhibits all the worst aspects of a plurality election without runoffs and with vote-splitting, strategic voting, and ulterior motives. Here's the latest roster of possible candidates:
| | | | | |
| --- | --- | --- | --- | --- |
| ID | Name | Address | Office Sought | Party |
| 15031 | DiDomenico, Sal | 125 Clarence Street, Everett | Senate, Middlesex, Suffolk & Essex | Democratic |
| 15001 | Hill, Daniel C. | 60 Sullivan Street, Charlestown | Senate, Middlesex, Suffolk & Essex | Democratic |
| 13783 | Simmons, E. Denise | 188 Harvard Street #4B, Cambridge | Senate, Middlesex, Suffolk & Essex | Democratic |
| 13736 | Decker, Marjorie C. | 61 Walden Street, Cambridge | Senate, Middlesex, Suffolk & Essex | Democratic |
| 13239 | Flaherty, Timothy | 5 Concord Avenue, Cambridge | Senate, Middlesex, Suffolk & Essex | Democratic |
| 15023 | Albano, Michael J. | 32 Crest Avenue, Chelsea | Senate, Middlesex, Suffolk & Essex | Democratic |
| 15032 | Benzan, Dennis | 48 Townsend Road, Belmont MA | Senate, Middlesex, Suffolk & Essex | Democratic |
We'll likely learn on Monday whether or not Denise Simmons' bid is a real one or just a poker move for leverage in the still unsettled mayoral sweepstakes in Cambridge. Marjorie Decker is seen by many as a long-shot candidate whose hope rests in being the only woman candidate in a field where they may be significant vote-splitting. She'll also have to share the union and real estate money with some of the other candidates, but they all have the advantage of a new calendar year with a blank ledger for campaign finance donation limits. Denise Simmons's chances are between slim and none for this Senate district, but she would likely harm Decker's chances among Cambridge voters. Though Decker has not yet officially filed as a candidate for the seat, she made it clear at a Jan 14 meeting of the Cambridge Democratic City Committee that she was running for the seat and had her campaign manager Jeni Wheeler in tow.
Dennis Benzan, former candidate for State Representative, filed the paperwork with OCPF on Jan 25. Marjorie Decker will be making a formal announcement of her candidacy at Woodrow Wilson Court (where she grew up) in Cambridgeport at noon on Tuesday, Jan 26.
It's worth noting that about 30% of the district is in Everett and only 20% is in Cambridge with the remainder spread across portions of Allston-Brighton, Somerville, Chelsea, Saugus, and Revere. Anthony Galluccio was able to build substantial support in Everett which was pivotal in his winning the seat in the 2007 Special Election to replace former rival Jarrett Barrios. Much of that Galluccio support will likely transfer to Everett City Council member Sal DiDomenico who also has deep roots in Cambridge. Tim Flaherty also ran for this seat in 2007 and should be able to quickly reassemble some of his campaign apparatus for this relatively short election cycle. He also retains some name recognition as a result of his previous run and his family's history in Massachusetts politics. The other Cambridge candidates are basically unknown outside the Peoples Republic.
There's no word yet on any challengers from any other political party, so (as usual) the contest should be decided at a low-turnout party primary on April 13. Then again, maybe Scott Brown has a cousin in Revere who drives a pickup truck.
300 valid nominating signatures due with local city and town officials - March 2, 2010
Primary Election - April 13, 2010
Special Election - May 11, 2010
---
For Mass. Dems, Brown win foretells needed competition (Jan 24 Boston Globe editorial)
Ex-Evergreen exec settles insider trading charges (Reuters)
featuring 2009 City Council candidate Charles Marquardt
---
Blame the Left for Massachusetts - Democrats should be willing to seek common-ground reforms (Lanny J. Davis, Wall Street Journal, Jan 20)
[Meanwhile, my clueless Cambridge Democrat pals seem to think their political salvation lies in driving even further to the left.]
---
And now... a few words about the U.S. Senate Special Election, i.e. Coakley vs. Brown vs. Kennedy (Jan 19, 2010, 7:30pm)
What a perfect election storm where controversial national political decisions coincide with the death of Ted Kennedy, a consequential Senate vote, and essentially a referendum on a sitting U.S. president - all in the bluest of blue states where most elections are noncompetitive formalities. For those of us who actually believe in democracy (small "d"), it simply doesn't get any better than this.
As I type these words, it's less than an hour until the polls close in Massachusetts. I've been robo-called, repetitively and intrusively polled, and subjected to an endless stream of ridiculous and propagandistic TV ads. To believe any of this garbage, you'd have to buy the line that Martha Coakley is a mindless party-line drone who would do little more than bark when Obama gives the signal, and Scott Brown is just a good-lookin' Karl Rove. Neither picture is even close to accurate.
I like Martha - her understated style, her intelligence, and even her name. The fact that she's married to a now-retired Cambridge cop also makes her one of us. I also like Scott Brown - his strategic political thinking, his remarkable family, and the promise of competitive Massachusetts elections that he represents. It's also fun that he posed in the buff for Cosmopolitan Magazine years ago as their "sexiest man in America." His wife, WCVB reporter Gail Huff, was once featured in the video for the Digney Fignus song "The Girl with the Curious Hand," and one of his two daughters went all the way to the Sweet Sixteen of that forgettable TV show "American Idol." This is great stuff!
I really don't know how the election will turn out. The latest polls suggest a Scott Brown victory, but the Democratic Party regulars have been in panic mode for the last week trying to turn out every last loyalist, so Martha My Dear may yet squeak out a victory. Regardless of the outcome in this Special Election, for those of us who have great misgivings about the government expansion now underway and the unprecedented proposal to mandate U.S. citizens to pay money to private (health insurance) companies, the message has already been sent - and congressmen and congresswomen across the county understand that if this can happen in the bluest of blue states, then they will soon have their own election problems to worry about.
The fact that a Republican candidate might even have a chance in Massachusetts should not really be all that surprising. Massachusetts residents have more than a healthy dose of suspicion about one-party rule even though every one of our Congressmen and an overwhelming majority in both houses of the State Legislature are Democrats. That's why we elected Republican governors for 16 years until the last go-round. That's also why most Massachusetts voters choose to remain unenrolled in any party. The truth is that the best thing that could ever happen to Massachusetts Democrats would be a significant Republican victory. The evidence suggests that the Massachusetts Democratic Party doesn't really believe in elections. They believe that all seats in the state legislature should be filled after private consultation behind closed doors and settled in low-turnout primaries followed by general elections with no significant competition (or no competition at all). I am reminded of the election a few years ago when Marjorie Decker campaigned in the Democratic Primary against party-favored Paul Demakis. Marjorie was criticized broadly for challenging "one of ours". That offended me so much that I wrote her a check. A few years later when Jarrett Barrios backed out of a District Attorney election against Gerry Leone and chose to seek reelection to his State Senate seat after Anthony Galluccio had announced his candidacy for that seat, the head of the state Democratic Party traveled to Cambridge to broker a negotiated settlement in order to avoid an actual election between two strong candidates. The message was clear - good elections are bad for the party.
So, tonight I'm feeling optimistic - not about the specific outcome of this Special Election, but about the possibility that the moribund Massachusetts Republican Party might get the outrageous idea that they can and should run candidates for every elected office and that Democratic candidates will have to step up and perform better instead of treating their elected jobs as lifetime entitlements. That would be my idea of a victory. -- Robert Winters
Results (Total and town-by-town from the Associated Press)
---
April 13 Primary Special Election set for Galluccio seat (and a meaningless follow-up election on May 11) -- Boston Globe
Related: Harvard professor Charles Ogletree to handle Galluccio appeal (Boston Globe, Jan 15, 2010)
Jan 6 - Follow The Money - What percentage of the 2009 campaign contributions for each of the elected city councillors came from people with a Cambridge address? Here are the percentages:
Henrietta Davis - 90%
Craig Kelley - 88%
Leland Cheung - 74%
Sam Seidel - 56%
David Maher - 54%
Denise Simmons - 51%
Tim Toomey - 45%
Ken Reeves - 28%
Marjorie Decker - 24%
Information based on data from the Massachusetts Office of Campaign and Political Finance (OCPF)
More detail at http://cambridgecivic.com/?p=345. Data files (zipped Excel) at 2009contributions.zip.
Addendum: The OCPF data reveals some other interesting things such as which candidates received campaign donations in excess of the individual annual limit of $500 (same $500 limit for political action committees). Here are the apparent excesses:
| | | |
| --- | --- | --- |
| Candidate | Donor | Annual Amount |
| Marjorie Decker | Asbestos Workers Local 6 | $750 |
| Marjorie Decker | Carpenters Local Union No. 33 | $800 |
| Marjorie Decker | Anne DiGiovanni | $1000 |
| Marjorie Decker | John DiGiovanni | $1000 |
| Marjorie Decker | IUPAT District Council #35 | $1250 |
| Marjorie Decker | New England Regional Council of Carpenters | $1000 |
| Marjorie Decker | Sheet Metal Workers Local #17 | $2750 |
| David Maher | National Association of Government Employees | $750 |
| Kenneth E. Reeves | Muirann Glenmullen | $750 |
| Kenneth E. Reeves | Kelly Higgins | $1000 |
| Kenneth E. Reeves | Joyce Naggar | $1000 |
| Kenneth E. Reeves | Stuart Rothman | $600 |
| Kenneth E. Reeves | Fred Swanson | $600 |
| Kenneth E. Reeves | John Toulopoulos | $600 |
| Sam Seidel | Phyllis Seidel | $1000 |
Perhaps a refund or two may be in order, or maybe there's some explanation for some of these. Here's the data (zipped Excel file) for anyone who wants to go fishing: 2009contributions.zip. Corrections, explanations, or interesting discoveries are enthusiastically welcome. There may still be a few more 2009 donations to be recorded, but it's all courtesy of the OCPF. -- Robert Winters
Jan 6 - The computers at Homeowners Rehab are infected with a virus that sends out messages with a virus-laden attachment "Christmas Card.zip". If you have received any such messages from them, you should contact Kelly Klemarczyk at KellyK@homeownersrehab.org. You may also wish to prevent an attack like this in the future by blacklisting the homeownersrehab.org domain in your e-mail software. The IP address is 72.85.226.223.
---
Peek at five-year forecast underlines school budget worries - Marc Levy's blog, Jan 5, 2010
Oakland (CA) City Council Approves Ranked Choice Voting (East Bay Express, Jan 5)
---
Jan 5, 6:45pm - State Senator Anthony Galluccio has resigned from the Massachusetts State Senate. Updates at http://www.boston.com.
January 5, 2010
The Honorable Senate President Therese Murray
Office of the Senate President
Room 332
State House
Boston, MA 02133-1053
Dear Senate President Murray:
I am writing to resign my position as State Senator of the Middlesex, Suffolk & Essex District, effective immediately.
I want to apologize for my actions in early October, and I accept full responsibility for them. When I came to the State House and was afraid of your reaction, you instead made me feel welcomed and, most importantly, human. I want to thank you for your candid conversations which helped narrow my focus to eliminating alcohol permanently and pursuing counseling and treatment. Counseling and treatment have been very helpful, as has the support I have received from my Senate colleagues, friends and immediate family.
My decision today is not out of hopelessness but rather one of hope and opportunity. In the end, I make this decision out of admiration and respect for each and every one of my Senate colleagues.
I also ask that my colleagues support my effort to appeal the recent violation with respect to alcohol use on the strongest possible terms. I maintain my innocence regarding this violation. I assure you I have kept faith with the court, the Senate, my family and myself with my decision in early October to eliminate alcohol from my life.
Anthony D. Galluccio
State Senator
Middlesex, Suffolk & Essex
---
Jan 4, 4:09pm - State Senator Anthony Galluccio was sentenced to one year in jail for violating his probation. Updates at http://www.boston.com.
---
Jan 4, 4:00pm update: The newly inaugurated Cambridge City Council failed to elect Mayor at its opening meeting. Their next opportunity will be at their regular January 11 meeting next Monday. Here's how the vote went:
Leland Cheung voted for Marjorie Decker
Henrietta Davis voted for Henrietta Davis
Marjorie Decker voted for Marjorie Decker
Craig Kelley voted for Ken Reeves
David Maher voted for David Maher
Ken Reeves voted for Ken Reeves
Sam Seidel voted for David Maher
Denise Simmons voted for Denise Simmons
Tim Toomey voted for David Maher
It takes 5 votes to elect a Mayor, so there's a way to go. The School Committee will be inaugurated at 6:00pm tonight with Councillor Reeves standing in as Chair in the absence of an elected Mayor. It is not clear whether they will vote to elect their Vice-Chair at this meeting or if they will wait until the election of a Mayor and 7th voting member of the School Committee.
Jan 3 - On the Eve of the City Council Inauguration and Mayoral Vote
On Monday, January 4, 2010 at 10:00am the newly elected Cambridge City Council will be sworn in at City Hall. Once City Clerk Margaret Drury takes care of all the swearing-in, the new Council will take up their first order of business - the election of a Mayor. If a majority is able to elect a Mayor, they will then proceed to the election of the Vice-Chair of the City Council (commonly known as Vice-Mayor).
The elected councillors have been meeting in pairs and threesomes and foursomes ever since the election results were known in November as the various mayoral contenders have been trying to convince and bargain their way into the Mayor's Office. Much of the convincing is based on things like philosophy, committee appointments, and who might be well-suited to chair the School Committee. On the other hand, there is a history of some not-so-above-board deal-making that also takes place in this process, e.g. the introduction of personal aides for all city councillors that grew out of the January 2006 deal-making.
As most voting Cantabrigians know, the Mayor of Cambridge is not popularly elected. It's really more like the election of a City Council President as in Boston and many other places. There is a certain logic in allowing an elected body to choose its own Chair, especially in a city governed by the Plan E Charter in which the City Council chooses a city manager as chief executive officer of the City. However, there is also a point of view that city councillors should act as representatives of the electorate and that they have some duty to act on behalf of those who elected them. If this is the case, what criteria should guide the election?
Criterion #1 - Showing Up for Work
Based on who has attended City Council committee meetings during the 2008-2009 term, the nod might go to Sam Seidel or Henrietta Davis (see chart below), though a strong case could be made for David Maher who chaired more meetings than any of his colleagues. Of course, outgoing Mayor Denise Simmons would also have to be included among the contenders for all the City Council and School Committee meetings she chaired during her term.
Criterion #2 - Let the People Decide - Instant Runoff
We could use the ballot data from the November election to see who would be elected if a series of runoffs were to be held using the ballots that elected the city councillors. Based of this, the nod would go to Henrietta Davis (with Denise Simmons as the last eliminated and Tim Toomey before her). However, the notion that voter preferences should factor into the mayoral election exposes a paradox. After the 2005 and 2007 elections, the person elected Mayor was the least preferred by the voters among the nine elected and would have been the first eliminated in an Instant Runoff election. Specifically, in 2005 and 2007 the Instant Runoff winner was Henrietta Davis, but Kenneth E. Reeves was chosen in January 2006 and Denise Simmons in January 2008 as Mayor. The likely reason for this reversal of fortune is that Council colleagues often do not wish to strengthen the hand of a popular colleague. If the pattern of 2005 and 2007 is repeated this year, we'll be greeting Mayor Leland Cheung on Monday morning.
I made a chart of these Instant Runoff Simulations for the 2009, 2007, 2005, 2003, 2001, 1999, 1997, and 1991 elections (the ones for which ballot data is available). It's worth noting that the last times the Instant Runoff winners were actually elected Mayor were in 1997 (Frank Duehay) and 1999 (Anthony Galluccio).
Criterion #3 - Let the People Decide - Look at the Rankings
There are quite a few ways of measuring popularity based on ballot rankings. One rather simplistic approach is to look only at the #1 rankings - a criterion often promoted in years past. The "#1 vote-getter" would make the case that this is what the people demand. Of course, this ignores the phenomenon of vote-splitting - the very thing that preferential ballots are designed to mitigate. Perhaps a more fair way to measure popularity based on ballot rankings would be to count the number of ballots on which each candidate appears with a high ranking, e.g. somewhere in the top 3 or top 5 or top 9 rankings. Henrietta Davis wins according to this criteria in all scenarios except the "Top 3" criterion in which she is eclipsed by 1 vote by Denise Simmons, 5015 to 5014. It's worth noting that according to these criteria, some elected councillors fare worse than some candidates who were not even elected. For example, using a "Top 3" criterion, Marjorie Decker and Leland Cheung are eclipsed by Eddie Sullivan and Larry Ward. In all criteria using 5 or more rankings, Marjorie Decker actually finishes 12th, though one can certainly argue that this may be a by-product of being a write-in candidate.
Criterion #4 - School Committee Experience
There are four councillors who have been previously elected to the Cambridge School Committee - Tim Toomey, Henrietta Davis, David Maher, and Denise Simmons. Of course, all those who have previously served as Mayor have also served in this capacity.
Criterion #5 - The Rotation Principle
There is something of a tradition of passing the torch among City Council colleagues so that various mayoral styles and priorities can be sampled. Based on this, the nod would go to Tim Toomey and Henrietta Davis for having waited their turn the longest. Needless to say, this criterion is most often quoted in order to dissuade councillors from reelecting a Mayor to a 2nd consecutive term. The Rotation Principle generally goes hand-in-hand with the Exclusion Principle, i.e. the fact that there are some elected councillors whose behavior has been such that they couldn't get majority support under virtually any circumstance. In short, some measure of acceptability is a prerequisite for consideration under the Rotation Principle. Though there is a temptation to name the Excluded here, I shall resist. In any case, every councillor's vote weighs as much as any other.
We'll see what Monday brings. Perhaps a deck of cards or some dice will prove handy in determining the outcome. - Robert Winters